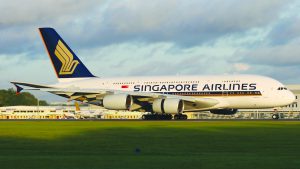 BLOOMBERG 
Singapore Airlines Ltd will pay staff a bonus of around eight months' salary after posting a record annual profit.
Eligible staff will be paid a profit-sharing bonus equivalent to 6.65 months' pay, and a maximum of 1.5 months' salary of ex-gratia bonus in recognition of their hard work and sacrifices during the pandemic, a spokesperson for the airline said. Senior management won't receive that additional ex-gratia bonus.
"The bonus for Singapore Airlines' employees is based on a long-standing annual profit-sharing bonus formula that has been agreed with our staff unions," the spokesperson said.
The city-state's flag carrier reported net income of S$2.16 billion ($1.62 billion) for the year ended on March 31, and said forward sales are healthy across all cabin classes, led by bookings to China, Japan and South Korea.
Singapore Airlines and its budget offshoot Scoot carried 26.5 million passengers in the year, six times higher than the 12 months through March 2022, with passenger capacity rising to 79% of pre-Covid levels in March.
Singapore Air said it flew 1.75 million passengers in April, up 53% from the same month last year. Hong Kong rival Cathay Pacific Airways Ltd has a way to go before it gets to those heights, with last year's revenue still only about half of pre-pandemic levels.