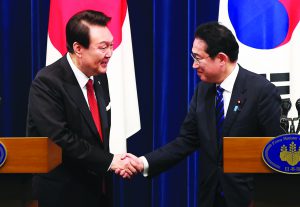 BLOOMBERG
The leaders of South Korea and Japan pledged at a rare summit in Tokyo their readiness to end a long-simmering dispute that had hurt security and trade tries, and work with their mutual US ally to counter threats from the likes of North Korea.
President Yoon Suk Yeol smiled as he shook hands with Prime Minister Fumio Kishida on Thursday at the first formal summit since 2011 between the neighbours held on Japanese soil. Before the two met, North Korea fired off an intercontinental ballistic missile designed to carry a nuclear warhead to the US mainland, underscoring the need for security cooperation.
"The cherry blossoms flowered in Tokyo this week, and we have thrown off a long winter by welcoming the first bilateral visit by a South Korean president in about 12 years," Kishida said. The two leaders told reporters they had agreed to resume shuttle diplomacy that had been suspended for years due to political acrimony. Kishida said he was looking to visit South Korea at an appropriate time.
Japan and South Korea will restart a security dialog that had been halted and launch a new economic security forum, Kishida said and Yoon offered assurances on advancing a military intelligence-sharing pact that had once been threatened as ties frayed.
"Japan shares universal values such as freedom, human rights, and the rule of law with the ROK," Yoon told Kishida, referring to his country by its formal name.
Tokyo signalled its willingness to reconcile earlier in the day by announcing it would lift export controls on three key materials used in chipmaking by South Korean giants such as Samsung Electronics Co. The restrictions had affected South Korea's high-tech companies when they were imposed in 2019.
Yoon has been working to rebuild trust after relations with Japan turned their coldest in decades under his predecessor, hampering US efforts to cooperate with allies to face up to an increasingly powerful China. A dispute over whether Japan had sufficiently compensated for its past colonisation of the Korean Peninsula threatened cooperation from trade to security.
The US has been seeking help from major chipmakers, including South Korea and Japan, to secure supply chains that are less reliant on China. It has also imposed sweeping curbs on the sale of advanced semiconductor equipment to prevent the world's second-largest economy's progress in a range of cutting-edge technologies that could threaten America's status as the world's preeminent power.