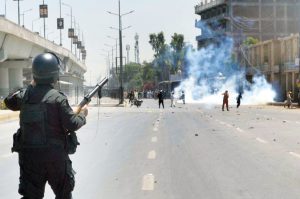 BLOOMBERG
Pakistan is considering banning Imran Khan's political party, Defense Minister Khawaja Asif said in a televised address, deepening the already tense standoff between the former premier and the country's government and powerful military.
"Whatever happened on May 9 wasn't spontaneous," Asif said, talking about the violence that erupted when Khan was briefly arrested by the country's graft agency and some protesters attacked military offices and buildings. "It was pre-planned, so in this background there are chances we consider to ban" the Pakistan Tehreek-e-Insaf party.
The last few weeks have seen a sweeping government crackdown on Khan's party. Several top leaders are now in prison and some two dozen have quit the party, dealing a blow to the embattled opposition leader.