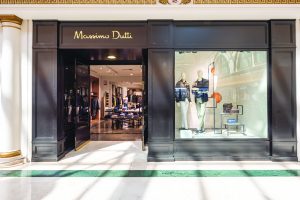 BLOOMBERG
Zara owner Inditex SA is struggling to reverse an earnings decline at its formal-wear chain Massimo Dutti as mid-range officewear is hit particularly hard by the cost-of-living crisis.
Earnings from the brand dropped 9.6% in the past fiscal year, Inditex reported. Revenue stood at €1.6 billion ($1.7 billion), 16% below the level of 2019, making Massimo Dutti the only Inditex chain that hasn't yet recovered from the pandemic.
Inditex, which is accustomed to healthy growth across its six formats, is facing the unusual position of a brand that's shrinking. Mid-priced formal wear is suffering as office workers don more casual clothing and either gravitate to the high-end fashion brands or cut spending except on budget items.
Chief Executive Officer Oscar Garcia Maceiras said Massimo Dutti was particularly dependent on Russia, where the retailer shut all its stores last March. "In any case, we have the absolute confidence in Massimo Dutti as a commercial format," he said. "They are making tremendous progress on the fashion proposition."
Almost one in ten of Massimo Dutti's shops were in Russia, according to Bestinver
Securities analyst Patricia Cifuentes. That's however in line with other chains such as Pull & Bear and Bershka, which are growing.
The chain had 548 stores worldwide at the end of January, compared to 766 at the start of 2019. Inditex has been pruning underperforming shops across all its formats, including many at Massimo Dutti.
German suitmaker Hugo Boss AG last week gave an earnings forecast that disappointed investors and said that inventory started to build up. Online clothing retailer Zalando SE has been changing its offerings to emphasize brands at both extremes of the price range.
"It's a strange one, Massimo, they should be pretty well-positioned for a lot of the drivers that we've seen over the last year," Credit Suisse analyst Simon Irwin said.
AlphaValue analyst Jie Zhang said Massimo Dutti could benefit from this polarisation in fashion if it managed to attract wealthy customers while adapting to the "relaxation" of formal wear.
Massimo Dutti is planning to add a linen collection that will be available this year, Inditex said.