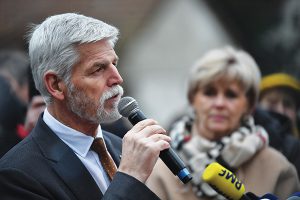 Bloomberg
A retired Nato general will seek to fend off an attempted political comeback by the Czech Republic's billionaire former premier as the nation votes in a presidential runoff election.
Petr Pavel, who once served as Nato's highest-ranking military officer, is favored to win the contest to become head of state after narrowly defeating former Prime Minister Andrej Babis a chemicals, farming and media magnate known for his tussles with the European Union, in the first round of voting.
The winner will succeed President Milos Zeman, a divisive figure who antagonized EU allies with support for Russia — until it invaded Ukraine — and China. The outcome of the vote will potentially bolster western unity in a push against Moscow's aggression, or mark the latest European victory for an anti-establishment populist.
"Pavel has long been an advocate for strong relations with Nato and the EU," said Capucine May, an analyst at risk intelligence firm Verisk Maplecroft. "The elections have taken on a geopolitical angle, with Pavel fighting the West's corner."
The two-day balloting starts at 2 p.m. on Friday and polling stations will close 24 hours later on Saturday, with the first preliminary results expected shortly afterward.
An office held by the late communist dissident Vaclav Havel in the decade after the Czech Republic split from neighboring Slovakia in 1993, the Czech president has sway in forming a cabinet and appointing central bankers and judges.
Most power resides in the government, headed by Prime Minister Petr Fiala. But during his two five-year terms, Zeman repeatedly bent constitutional conventions to carve out more powers for himself and polarized the country with disparaging remarks about Muslim immigrants.
Pavel, 61, a firm backer of Ukrainian defense and EU sanctions against Russia, has pledged to return the office to the European mainstream, highlighting his background in the North Atlantic Treaty Organization as a guarantee of the nation's Euro-Atlantic allegiance. He's also promised to take a less confrontational stance on domestic issues.
Untested as an outsider in Czech politics, Pavel has also been forced to answer questions about his membership in Czechoslovakia's communist party in the 1980s and aspirations to join the Warsaw Pact nation's military intelligence. Pavel has called his party affiliation in his youth a mistake, for which he's compensated by serving with Nato militaries.
Babis, 68, is seeking a return to high office after he was voted out as prime minister in 2021 elections. In office, he gained a reputation for clashing with the EU over migration policies and conflict-of-interest allegations regarding his companies.
An erstwhile supporter of former US President Donald Trump, Babis embraced an anti-immigration agenda as he became one of the closest European allies of Hungary's nationalist leader Viktor Orban.
One of the richest Czechs, Babis has assailed Fiala's government for not helping citizens in the worst cost-of-living crisis in three decades. He's also targeted Pavel's military background as a threat to peace as the country is in the forefront of EU nations sending weapons to Ukraine. Pavel is rare in Czech politics as a supporter of euro adoption, while Babis has strongly opposed it, in line with a majority of Czechs who consider the common European currency a risk to the export-oriented $300 billion economy.