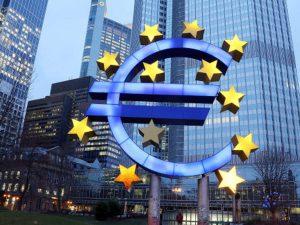 BLOOMBERGÂ 
European Central Bank (ECB) officials called for interest rates to be lifted further — seeking additional reassurance on the inflation front as they look past more signs of weakness in the euro-zone economy.
Dutch central bank chief Klaas Knot said he's "not yet convinced that the current tightening is sufficient," telling lawmakers in the Netherlands that "inflation could well remain too high for a long time and further rate hikes will then be necessary."
Ireland's Gabriel Makhlouf said "more work is needed from monetary policy in the short run," while ECB Executive Board member Isabel Schnabel said there's "more ground to cover" on borrowing costs. Exactly how much will depend on incoming data, Belgium's De Tijd newspaper cited her as saying.
Numbers, of late, have provided grounds for optimism.
Both headline inflation and the core gauge that policymakers' have increasingly used as their guide moderated by more than anticipated in May, while an ECB survey showed consumers' expectations for the trajectory of prices easing significantly.
At the same time, Europe's economic outlook is looking shakier. Greece revealed a surprise decline in first-quarter output — further weighing on the 20-nation euro area, which is already being dragged down by Germany's recession.
The bloc was expected to release an updated reading of its own first-quarter performance on Thursday, with a Bloomberg survey suggesting it will just avoid the fate endured by its biggest economy by stagnating.
ECB policymakers have, in any case, stressed that regaining control of prices is essential to put growth back on track. Investors and analysts still predict quarter-point rate hikes next Thursday and in July — bringing the deposit rate to 3.75% from below zero in
July, the steepest rise in borrowing costs since the euro was introduced.