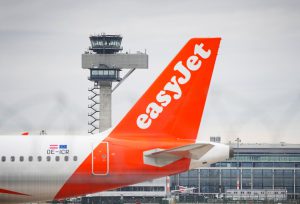 BLOOMBERG 
EasyJet Plc is benefiting from higher ticket prices heading into the peak summer season as the low-cost carrier sets plans to capture a bigger share of the post-pandemic rebound in air travel.
Revenue per seat, which includes extras such as baggage fees, is running 20% above year-earlier levels, the UK airline said as it reported better-than-expected first-half results.
Leisure customers are purchasing more ancillary items as they travel, Chief Executive Officer Johan Lundgren said in a Bloomberg TV interview. Carriers like EasyJet are charging for everything from carry-on luggage to seat selection.
"It is a strong-demand environment," he said. "People have really looked upon travel now very differently than they did prior to the pandemic."
A shortage of planes, along with consumers' willingness to pay more after being idled, have swelled airline revenue, fueling optimism for a blow-out high season during the Northern Hemisphere's summer.
Singapore Airlines reported record annual profit even though passenger capacity stood at 79% of pre-Covid levels. This month, British Airways parent IAG SA raised its profit forecast, surprising investors with the speed and strength of its rebound.
Lundgren told reporters on a call that people were prioritising travel, and the industry is in better shape to deliver on service than last year, when understaffed airlines and airports struggled to gear up.
Still, there's a question of how much airlines will be able to keep raising prices. It's "impossible to say what the fare development would be," he said.
Expansion Plans
EasyJet is expanding its package holiday business in Europe, starting with Switzerland this summer, while citing "rapid" growth in the UK.
The Luton, England-based carrier is also accelerating its medium-term expansion with a new base in Birmingham.
EasyJet reported an adjusted loss before tax of £411 million ($512 million) in the seasonally slow first half of its financial year that began on October 1. That's better than the £417.8 million average estimates of analysts tracked by Bloomberg.
With fuller planes, higher per-passenger revenue and a lid on costs, EasyJet's "strong operating performance" raises confidence it can support investments in planes and other commitments, Neil Glynn, an analyst with Air Control Tower, said in an email.
Last month, EasyJet raised its earnings outlook for a second time this year, highlighting surging demand for beach vacations. The discount specialist has been running at close to full capacity to serve popular destinations like Spain and Portugal.
Still, investors may see a "lack of momentum in Q3 pricing compared to the April update as a potential sentiment negative," analysts including Sathish Sivakumar at Citigroup said in a report.
EasyJet shares have gained about 60% this year, the best performance among members of the Bloomberg World Airlines Index.