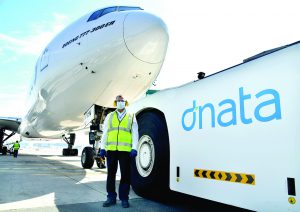 DUBAI / WAM
Dubai South and dnata, a global air services provider, have entered into a partnership to develop a digitally driven Gate Control mechanism for cargo handling terminals at Dubai South's Logistics District. The Gate Control mechanism will enable the seamless flow of goods through the free zone's gates, with companies based at the Logistics District and movers transporting goods to other ports benefiting significantly.
The collaboration involves integrating Masary, an e-gate pass system by Dubai South, with dnata's Appointment & Dock management system. The integration will allow customers to enter and exit Dubai South gates under dnata's designated appointment system for goods movement, providing faster procedures and a seamless, paperless experience.
The CEO of the Logistics District, Mohsen Ahmad, expressed his excitement about the partnership and the opportunities it provides for clients to flourish in the competitive market.
Guillaume Crozier, Senior Vice President of UAE cargo at dnata, stated that the partnership demonstrates dnata's commitment to invest in the latest digital technologies and automation to provide the best possible services to its customers.
Dubai South, the largest single-urban master development focusing on aviation, logistics, and real estate, is collaborating with dnata, one of the world's largest air services providers offering ground handling, cargo, and travel.