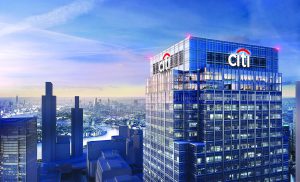 BLOOMBERGÂ 
Citigroup Inc has begun to see signs of a rebound in investment banking, with an agreement to avert a US debt default poised to further boost deal volumes.
The company had already begun to see a pickup in both investment-grade debt and equity underwriting, Tyler Dickson, co-head of Citigroup's banking, capital markets and advisory unit, said in a Bloomberg Television interview. The Wall Street giant has also seen an increase in merger activity as well as leveraged finance, where borrowers have seized on reduced volatility in markets and pent-up investor demand to do deals.
"The CEOs and boards that we've talked to so far this year have been cautious given the economic backdrop and specific issues like the debt ceiling, and I think we're carefully optimistic about progress that was made over recently," Dickson said, referring to a deal reached between the White House and Republican lawmakers. "As we look to the second half of this year, we're cautiously optimistic that activity will pick up off the back of that confidence."
Bankers have been desperate for signs of a rebound ever since Russia's invasion of Ukraine more than a year ago spurred volatility across markets, stunting dealmaking and underwriting alike for months. At New York-based Citigroup, investment-banking revenue slumped 25% to $774 million in the first three months of the year.
Goldman Sachs Group Inc is considering another round of job cuts, which would be its third round of trimming in less than a year. Despite signs of a rebound, Citigroup has been reducing headcount across its investment bank as well, Dickson said.
"The banks are doing what they should in order to right-size their teams for the complicated environment we're in," he said. "We're taking that tack."
Those moves have come as Citigroup has added to its ranks across commercial and corporate banking as it seeks to invest in both businesses, Dickson said.