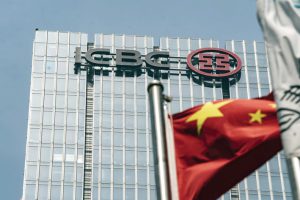 BLOOMBERG
Industrial & Commercial Bank of China (ICBC), the world's largest lender by assets, reported profit grew just 0.03% in the third quarter as it was directed to dole out cheap loans to help shore up the struggling economy.
The other big banks posted mixed results. Agricultural Bank of China Ltd said profit rose 7.76% in the period, while Bank of Communications Co reported net income fell 2.98%, according to exchange filings. China Construction Bank Corp reported a 2.6% increase in its profit, as it managed to offset a margin slide with lower credit impairments.
The $56 trillion banking industry has been battling shrinking margins and rising bad loans since they were drafted by authorities to backstop the economy and prevent risk spillover from the sluggish property sector. Challenges mounted this year as they were asked to avert a credit crunch in the $9 trillion local government debt market, with loan rollovers and debt extensions at lower rates further weighing on their profits and asset quality.
Combined profits at China's commercial banks rose 1.6% from a year earlier to 1.9 trillion yuan in the first three quarters, according to data from the National Administration of Financial Regulation. Non-performing loan ratio at the commercial lenders dropped 0.05 percentage points to 1.61% at the end of September.
Net interest margin at the nation's lenders dropped to a record low of 1.74% as of end-June, according to official data, below a 1.8% threshold that's regarded in the industry as necessary to maintain reasonable profitability.
The sector's shares have taken a beating. A Bloomberg index of Hong Kong-listed Chinese banks tumbled as much as 17% this year from a high in May, while the big four state banks remain near record low valuations of about 0.4 of their book value.
Still, the potential balance-sheet damage from China's property and local government woes may not yet be priced in, according to Bloomberg Intelligence analyst Francis Chan.
The sector's fate could be clouded by systemic risks from both the property sector and local government financing vehicles, Chan wrote in a report. He estimated average profit growth of 11 banks under coverage to trail consensus forecast of 3.6% in 2023 and 5.9% for 2024.