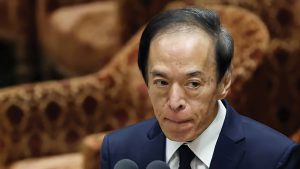 BLOOMBERG
The Bank of Japan (BOJ) indicated a cautious stance towards pivoting from massive easing before achieving its inflation target, helping cool market speculation over any big monetary policy shift at the start of incoming governor Kazuo Ueda's term.
"The risk from a hasty policy change that could lead to missing a chance of such achievement should be considered as more significant than the risk from a delay in policy change," one board member said, according to a summary of opinions from the policy meeting released on Monday.
The caution against acting too fast on tightening within the nine-member board could lead Ueda to take some time before making any major policy shifts. Ueda, a former BOJ board member, is known for dissenting from ending the zero interest rate policy in 2000.
The final meeting for Governor Haruhiko Kuroda's decade-long term ended before the Sillicon Valley Bank fallout and the Credit Suisse crisis became a dominant concern in global
financial markets.
The summary showed no material difference from Ueda's parliamentary hearings last month, where he reiterated the need for continued easing. BOJ watchers are likely to keep a close eye on whether Ueda takes steps to mitigate increasing side effects once he takes up his post on April 9.nflation shock from overseas.