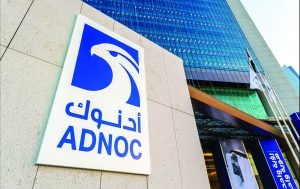 ABU DHABI / WAM
Adnoc on Thursday announced the successful completion of the bookbuild and public subscription process for the initial public offering (IPO) of Adnoc Logistics & Services (Adnoc L&S), a mission-critical global energy maritime logistics leader and critical enabler of Abu Dhabi and the UAE's supply of energy to the world.
The offering of 19 percent of the total issued share capital of Adnoc L&S, previously upsized from 15 percent to meet significant investor demand, at a final offer price of AED2.01 per ordinary share, results in gross proceeds of $769 million to Adnoc, upon settlement.
The unparalleled volume of orders saw the Adnoc L&S IPO commanding the largest demand globally for an IPO this year. Witnessing overwhelming demand from UAE retail investors and professional investors, total gross demand for the IPO amounted to over $125 billion, implying an oversubscription level of 163 times in aggregate, the highest-ever oversubscription of a UAE bookbuild IPO.
Commenting on the historic bookbuild for a UAE IPO, Khaled Al Zaabi, Group Chief Financial Officer of Adnoc, said, "We are delighted with the unparalleled demand for Adnoc L&S shares from UAE retail investors as well as the local, regional, and global investor community. This offering saw the largest demand globally for an IPO this year to date and achieved the highest-ever oversubscription for a UAE bookbuild IPO. This record-setting listing is the sixth company Adnoc has successfully brought to market within five years and marks the next remarkable achievement in our ongoing value creation programme.
"Adnoc L&S is a highly attractive value proposition, underpinned by strong and long-term growth credentials and a progressive dividend pay-out. Cementing our role as a critical catalyst in attracting global capital, Adnoc welcomes its new investor base to partake in our continued growth story, as we continue to deliver sustainable growth for Abu Dhabi, the UAE, and our shareholders," he added.
As the sixth company that Adnoc has listed on ADX in the past five years, Adnoc L&S follows the landmark IPOs of Adnoc Distribution, Adnoc Drilling, Fertiglobe, Borouge and Adnoc Gas, and further cements Adnoc's instrumental role as a primary catalyst for the diversification and growth of Abu Dhabi's capital market and the UAE's status as a go-to destination for global capital.
Adnoc IPOs to date have raised more than $8 billion combined, with total demand exceeding $385 billion, supporting Adnoc's ambitious growth strategy and reinforcing the UAE's position as a global investment destination of choice.
Adnoc L&S has a successful track record of delivering powerful organic and inorganic growth. Operational excellence and robust cost discipline has enabled the company to achieve strong and profitable financial results. On an unaudited pro forma basis and reflecting the acquisition of Zakher Marine International (ZMI Holdings) in 2022, the company's revenue and adjusted Ebitda for the year ended December 31, 2022 was $2.3 billion and $599.3 million, respectively, with revenue having increased at a compound annual growth rate of more than 20 percent from 2017 to 2022.
Adnoc L&S is undergoing a major strategic expansion drive, underpinned by an up to $5 billion medium term capital
expenditure programme, providing investors with an exciting growth opportunity.
Adnoc L&S intends to pay a fixed dividend amount of $195 million for the second quarter and the second half of 2023 (equivalent to annualised dividends of $260 million). Thereafter, the company expects to increase the annual dividend per share by at least 5 percent per annum.
The expected date of listing on ADX is June 1. Upon listing, Adnoc will continue to own a majority 81 percent stake in Adnoc L&S.