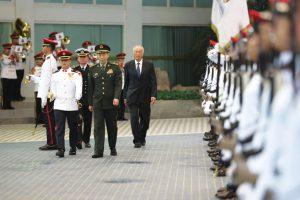 BLOOMBERG
A highly anticipated defense forum in Singapore kicked off with a friendly handshake between Pentagon chief Lloyd Austin and Chinese Defense Minister Li Shangfu. It ended with few other signs of optimism that the world's biggest economies could avoid an eventual collision.
Austin used his speech at the Shangri-la Dialogue to chide China over its refusal to meet unless the US lifted sanctions on Li, saying that "a cordial handshake over dinner is no substitute for a substantive engagement." The remarks came as a Chinese vessel harassed an American warship transiting the Taiwan Strait, drawing attention to the biggest potential military flashpoint between the two powers.
Li fired back, accusing "some big power" of creating divisive alliances, bullying other nations, spurring an arms race and seeking to contain China with its support for Taiwan. China's military "will not hesitate for a second" to move on Taiwan if necessary, he said, while dismissing questions about near-collisions in disputed waters. Competing militaries should stay away and "mind your own business," Li said.
Other countries at the event, meanwhile, repeatedly spoke of the dangers posed by rising US-China tensions and the need to prevent anything like Russia's war in Ukraine from occurring in Asia. "There was a real sincerity and urgency that what happened in Ukraine must not happen in Asia," Singapore Defense Minister Ng Eng Hen told reporters after a lunch that included all of the most senior defense officials at the event. "Many ministers have said if you have a simultaneous war in Europe and Asia it's catastrophic globally."
The back-and-forth between the US and China at the annual Shangri-La Dialogue was always expected to be fraught, particularly after President Joe Biden's administration declined to remove sanctions placed on Li in 2018 over his role in purchasing a Russian missile defense system. It was also the first major defense forum since then-House Speaker Nancy Pelosi's visit to Taiwan in August prompted China to conduct unprecedented military exercises surrounding the island.
Despite the lack of a US-China breakthrough in Singapore, signs are emerging of increased communication ahead of key summits later this year — the Group of 20 in India and the APEC forum in San Francisco — that will place Biden and Chinese President Xi Jinping in the same room.
CIA Director William Burns made a secret visit in May to meet intelligence officials in Beijing, and a senior US Treasury official met with China's new envoy to the US. Daniel Kritenbrink, the top US State Department official for Asia, is set to travel to China.
And while Li didn't formally meet Austin in Singapore, the Chinese defense minister met with nearly a dozen other delegation heads — including his UK counterpart, Ben Wallace, who emerged from the hour-long conversation saying talks were productive and that he looked forward to visiting China soon. Li also said he had "pretty good" talks with Yasukazu Hamada, the defense minister of Japan, another staunch US ally.
Still, the Singapore meeting underscored growing divisions between China and the US over the basics of the global order.