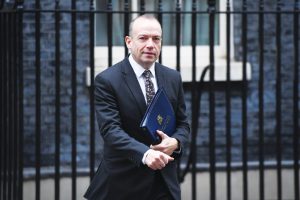 BLOOMBERG
The UK's domestic intelligence agency, MI5, increased the terror threat level in Northern Ireland from substantial to "severe," meaning an attack is deemed to be "highly likely" just as US President Joe Biden plans a visit to the region.
"The public should remain vigilant, but not be alarmed, and continue to report any concerns they have to the Police Service of Northern Ireland," Northern Ireland Secretary Chris Heaton-Harris said in a statement to Parliament.
Heaton-Harris said the decision to change the threat level was taken independently by MI5, and cited the ongoing threat from a "small number" of individuals who remain determined to use "politically motivated violence." It was lowered to substantial one year ago — the first time it had been altered since 2010.
The MI5 decision came as the 25th anniversary nears of the signing of the Good Friday Agreement, which ended decades of unrest in Northern Ireland. Biden has said he intends to travel to the Republic of Ireland and Northern Ireland to mark the occasion, though the White House is yet to announce dates or details.
Sectarian tensions in the region have been rising, with an increasing number of attacks in recent months including the attempted murder of policeman John Caldwell on February 22. A republican dissident group known as the New IRA (or NIRA) said it carried out the attack.
The republican movement wants Northern Ireland to leave the UK and unite with the Republic of Ireland. But it is splintered into factions, some of which are pursuing violence to achieve their aims. Under the terms of the Good Friday Agreement, Northern Ireland remains part of the UK until a majority of people living there vote for change.
While support for violence remains small, according to estimates by the security services, dissident republicans have been responsible for a string of killings since 2009, including the fatal shooting of journalist Lyra McKee while she observed rioting in 2019.
More than 3,600 people were killed and tens of thousands were injured during more than 30 years of violence before the 1998 peace deal. Events planned to mark the April 10 anniversary include a conference at Queen's University, Belfast, attended by former US President Bill Clinton and his wife Hillary Clinton, a former US Secretary of State.