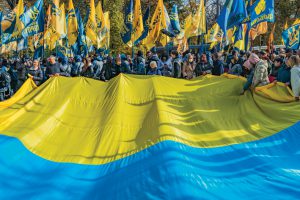 BLOOMBERG
Russia hit an airbase in western Ukraine, damaging five aircraft and the runway, and targeted the nation's capital in the second massive rocket and drone attack in as many days.
Rescue workers worked to extinguish a fire at the air base in the Khmelnytskyi region, where a fuel warehouse and military storage as well as the aircraft and runway were hit, the regional governor's office said on Telegram.
Explosions were heard in Kyiv at night and again in the morning, as air defense repelled drone and missile attacks, Mayor Vitali Klitschko said on Telegram. One person was hospitalised, he said.
Russia has ramped up air strikes on military facilities and infrastructure across the country this month, as Ukraine prepares a counteroffensive to try to take back territory occupied by the invading forces.
Debris from an intercepted missile fell on two highways in Kyiv, and emergency services were on route to areas in the city center, according to Klitschko. Air defenses were also working in the Chernihiv region, the northern military operational command said on Telegram.
During the overnight attack, Ukraine shot down more than 37 cruise missiles and 30 drones, nearly all that Russia launched, according to Kyiv's General Staff of the Armed Forces.