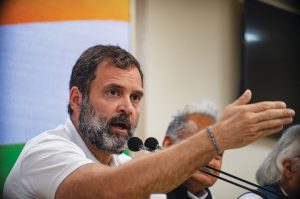 BLOOMBERG
Indian opposition leader Rahul Gandhi said he will keep questioning Prime Minister Narendra Modi's close ties with tycoon Gautam Adani even after being disqualified as a member of parliament.
"I am here defending the democratic voice of the Indian people. I will continue to do that," Gandhi said at a press conference in New Delhi. "I have been disqualified because the prime minister is scared of my next speech that is going to come on Adani."
The 52-year-old politician, scion of India's most famous political dynasty, was ousted from parliament as a lawmaker after a local court convicted him of defaming Modi during an election speech in 2019. That's a setback for his Congress party ahead of national elections next year, and has led to an escalation in a conflict between the opposition and Modi's ruling Bharatiya Janata Party (BJP).
Congress party workers held protests in various parts of India against Gandhi's removal from parliament. BJP said the law applies equally to everyone and Gandhi must face consequences.
Gandhi has been positioning himself as a challenger to Modi and the BJP, seeking to counteract the party's populist Hindu views in a secular nation. To revive the Congress party, he recently completed a 2,170-mile trek from India's southernmost tip to the icy north of Kashmir.
He has been drawing attention to the ties between Modi and Adani and the tycoon's meteoric growth that mirrors the Indian leader's rise to the top elected office. Modi has avoided giving any direct response to Gandhi's allegations. A representative for the Adani group didn't immediately comment.