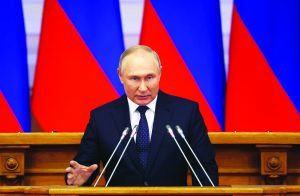 BLOOMBERG
President Vladimir Putin approved a new Russian foreign policy concept that set out to confront the US and its allies, claiming an "era of revolutionary changes" was under way in international relations.
The US is "the source of fundamental risks to the security of the Russian Federation" and most European states are pursuing an "aggressive policy" aimed at undermining Russia's sovereignty, according to the 42-page document signed by the president.
The policy "serves as a solid doctrinal basis for our further work on international affairs," Putin told a meeting of his Security Council. Russia will seek to boost ties with "constructive partners" and create "conditions for unfriendly states to abandon their hostile policy towards our country," he said.
Putin issued the updated document with Russia's military embroiled in Europe's largest conflict since World War II following his February 2022 order to invade Ukraine. Facing an anticipated counteroffensive by Ukrainian forces supplied with weapons by the US and its Nato allies, the Kremlin has sought to rally domestic support for the faltering war by casting it as a battle for existence against the West, while ignoring the fact that Moscow initiated the conflict.
Russia faces an "existential" threat from the US and its allies, which are conducting "hybrid war" to weaken the country, Foreign Minister Sergei Lavrov told Putin at the meeting. The new foreign-policy concept allows for "the use of the Armed Forces to repel or prevent an armed attack on Russia and its allies," he said.
Russia intends to deepen relations with China and India, and to make military aid to Latin American nations facing "US pressure" a priority of its foreign policy, according to the document.
With competition intensifying between Russia, the US and China for influence in Africa, the Kremlin also pledged to step up food and energy cooperation with states on the continent as well as military partnerships.
Still, even as it lashed out at Washington, Russia said it's interested in "peaceful coexistence with the US and establishing a balance of interests" given their status as the world's two biggest nuclear powers.
Ukrainian president Marks Anniversary of Bucha Liberation
President Volodymyr Zelenskiy vowed to drive Russia out of Ukraine as he marked the one-year anniversary of the liberation of Bucha, the town northwest of Kyiv that suffered reported wide-scale atrocities under the  occupation of Moscow's troops.
Spanish PM Urges Xi to Reach Out to Ukraine About Peace
Spanish Prime Minister Pedro Sánchez urged Chinese President Xi Jinping to speak with his Ukrainian counterpart if Beijing wants to play a role in ending Russia's invasion.
"We all want peace, but we want that peace to be just and lasting, and for that to happen it has to be based on the position of the country that is being attacked," Sánchez said after meeting Xi.
Spain is in line with the European Union in supporting the Ukrainian president's blueprint to end the hostilities released a few months ago, Sánchez added.