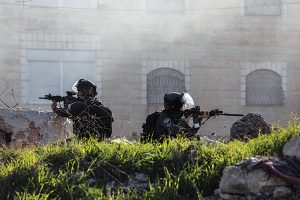 Bloomberg
The Palestinian Authority said it's ending security ties with Israel after nine civilians were killed in a West Bank gunfight, in an escalation in violence that was later followed by a rocket attack from the Gaza Strip.
Mahmoud Abbas, president of the Palestinian government body, on Thursday announced three days of mourning following the clashes in the city of Jenin. Hamas, the Islamic movement that rules Gaza, warned Israel would "pay the price for the massacre."
The hostilities, which resulted in one of the highest daily death tolls in years, showed little sign of abating on Thursday night into Friday morning.
Palestinians fired rockets on southern Israel and the Israeli air force carried out reprisal airstrikes in the Gaza Strip. No injuries were reported on either side and no one claimed responsibility for the rocket fire.
Violence is escalating just days ahead of US Secretary of State Antony Blinken's visit to the region next week. Abbas has previously threatened to end security cooperation and it was not immediately clear what immediate changes the latest statement would bring if any.
The uptick in the fighting came just a month after Prime Minister Benjamin Netanyahu's coalition government was sworn in after pledging to implement policies such as loosening open-fire rules for some security forces. The new administration, which includes some far-right figures, has also proposed expanding or building more settlements in the West Bank, where Palestinians are seeking to establish an independent state.
The Israeli army said violence broke out as security forces entered the Jenin refugee camp to arrest members of Islamic Jihad, another Gaza-based group, who it accused were planning multiple attacks including the shooting of soldiers and civilians.