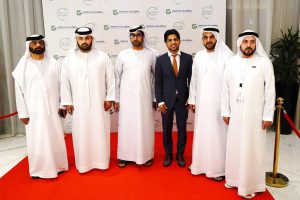 DUBAI \ GULF TIME
Keshav Global Group, a pioneering multinational enterprise, marked its Founder's Day on September 13, 2023, with a celebration of its remarkable 128-year legacy and the unveiling of an ambitious strategic plan that charts its course for the next decade. The extravagant gala dinner, brimming with entertainment, was held at the prestigious Shangri-La Hotel on Sheikh Zayed Road in Dubai. It was attended by the Keshav family, esteemed guests, members of the media, and prominent influencers.
"As we stand at the crossroads of our illustrious history and a future filled with promise, our legacy of over a century serves as our guiding light. As we chart our course ahead, our meticulously crafted 10-year plan reaffirms our unwavering commitment to sustainability, innovation, and inclusivity. We are resolute in our mission to leave a lasting, positive imprint on the world, all the while staying true to the values that have propelled us to this defining moment."  Vyom Garg ,MD – Keshav Global, said.
The legacy of Keshav Global Group traces back to its humble beginnings in 1895 when Late Mr. Sagar Mal and his son, Late. Mr. Shambhu Nath, established a modest lumber business in Hapur, India. Throughout the generations, the company's evolution has been characterized by unwavering resilience, unrelenting determination, and a steadfast dedication to turning concepts into tangible achievements. Starting with the sacrifices made by Late Mrs. Bhramadevi and continuing through the transformative leadership of Late Mr. Sunil Garg, the company's heritage stands as a testament to its steadfast commitment to both integrity and progress.
Highlights of the 10-Year Plan: Timber Vertical: Keshav Global's sustainable vision for the Timber Vertical includes an expansive certified timber project in Liberia, spanning from replantation to bioenergy. The project aims to cover an area of 200,000 hectares, producing a range of end products like Medium Density Fiber board (MDF), engineered timber, and more. Additionally, the company will introduce innovative Cross-Laminated Timber (CLT) technology in projects across South America and India.
Agriculture Sector: With a strong emphasis on sustainability and responsible practices, Keshav Global's Agriculture Sector will adopt a "Seed to Retail" approach, encompassing everything from soil health to bioenergy production from agro waste. The company's commitment to empowering farmers and achieving food security will be realized through projects spanning various crops, refining, processing, and distribution.
Carbon Credits and Afforestation Initiatives: Recognizing the critical role of forests in combating climate change, Keshav Global commits to planting 100 million trees solidifying afforestation as a central pillar of its sustainable endeavours. Carbon credits represent our commitment to reducing carbon emissions. By investing in clean energy and sustainable practices, we're not only reducing our carbon footprint but also contributing to a healthier planet.
Social Impact: Upholding the spirit of giving back, Keshav Global has established the Keshav – Brahma Raj Sunil Trust to provide education to underprivileged young girls. A significant portion of the company's profits will be dedicated to the foundation, extending its commitment to positive social change.
Belief in Self and Collective Success: The MD emphasized the importance of self-belief and unity in driving meaningful change, drawing parallels with the construction of iconic structures like the Burj Khalifa. The company's dedication to fostering collaboration, forging partnerships, and generating a positive social impact underscores its commitment to a more promising future.
As Keshav Global enters its 129th year, it stands poised to lead in a world where sustainability, innovation, and positive impact are paramount. With a legacy that spans continents and generations, the company's journey continues, driven by the unwavering belief in its ability to shape a better world for all.