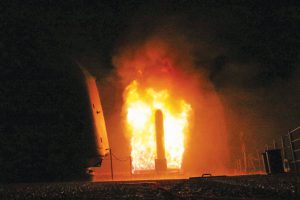 BLOOMBERG
As Japan and South Korea attempt once again to put their bitter 20th century disputes to rest, it signals a growing recognition in both capitals that their 21st century security may depend on each other.
South Korean President Yoon Suk Yeol goes to Tokyo on Thursday trying to end four years of feuding over compensation for Japan's use of forced labour during its 1910-45 occupation of the peninsula. It's the first visit by a South Korean leader since 2019, and will include a meeting with Prime Minister Fumio Kishida, the first such summit on Japanese soil in more than a decade.
The meeting came together because Yoon, a conservative who took office a year ago, had decided that continuous bickering with a fellow US treaty ally was bad for both countries, according to a South Korean official close to the talks. The prosecutor-turned-politician made it a high priority six months ago to find a way to pay people forced to work at Japanese colonial-era mines and factories that was acceptable to Tokyo, the official said.
"I believe we must end the vicious cycle of mutual hostility and work together to seek our two countries' common interests," Yoon said in a joint interview before departing for Japan. Adding it was in the security interests of both sides to cooperate as they stare down Kim Jong Un's regime, with benefits such as enhanced data sharing enabling "a more powerful and effective response to North Korea's nuclear and missile threats."
Kim's new solid-fuel missiles can be set-up and launched in 10-15 minutes and travel in excess of five times the speed of sound. Once fired, they would only need about another five to 15 minutes to reach any US base in South Korea and Japan, where almost 80,000 American military personnel and their families live and work.
One of Pyongyang's top priorities for an attack would be to knock out as many military assets as possible in the region.