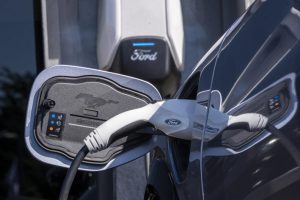 BLOOMBERG
Ford Motor Co struck a deal with rival Tesla Inc to give its electric-vehicle (EV) customers access to the Tesla Supercharger network, a move towards a single industry standard to simplify recharging.
The Ford F-150 Lightning, Mustang Mach-E and E-Transit vehicles will be able to power up on 12,000 Superchargers across North America starting next year, using an adapter. Ford's next-generation electric vehicles, starting in 2025, will have the Tesla charging capability built in.
The partnership makes Ford the first major automaker to adopt Tesla's so-called North American Charging Standard, giving its customers access to the largest, fastest and most reliable network of EV chargers. Access to reliable charging is a major concern among those interested in purchasing an EV.
"The deal may ease consumer concerns about the availability — and reliability — of chargers in the US," Kevin Tynan, an analyst with Bloomberg Intelligence, said in a note. The move may represent a "step back" for other companies in the EV charging market.
"We're really pumped up about working" with Tesla, Ford Chief Executive Officer Jim Farley said on a Twitter Spaces session with Elon Musk. Both characterised the partnership as helping to improve EV adoption. Musk is the CEO of Tesla and owns Twitter.
Some new customers who otherwise might have signed up with ChargePoint Holdings Inc, Blink Charging Co or EVgo Inc could opt for Tesla's chargers as a result of the Ford deal, according to Gabriel Daoud, managing director of equity research with Cowen Inc.
Tesla's charging network already has a better reputation for reliability than its competitors, ranking highest in a recent JD Power survey of EV drivers. The rest of the charging industry may need to adopt Tesla's charging connector as a de facto standard by retrofitting existing stations with new plugs should other automakers sign on.
"If the other OEMs follow suit, the charging companies will have no choice but to adapt," Daoud said.
The deal does not necessarily mean other charging companies will get squeezed out of the market due to the sheer number of public charging stations the EV transition will require.
Ford said for customers to use the Superchargers next year they'll also need to do a software update and make a payment. Musk said the charging adapters wouldn't be "cost-prohibitive," though neither CEO gave an exact price.
Farley said Ford customers will still be able to use their old chargers, known as Combined Charging System connectors.
Tesla controls nearly 60% of the US electric vehicle market and Ford was a distant second in 2022. Farley has said he is aiming to eventually overtake Tesla.