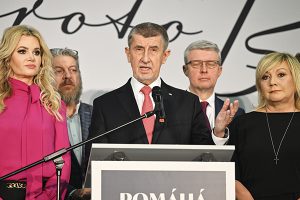 Bloomberg
Former Czech Prime Minister Andrej Babis, who is trailing in his bid to win the nation's presidency this week, drew criticism for saying during a televised debate that he wouldn't send troops to aid Nato allies.
The billionaire ex-premier, who was voted out of power in 2021 and now leads the largest opposition party, backtracked after saying he wouldn't deploy Czech soldiers to help neighboring Poland or the Baltic countries if they were attacked. He corrected himself, saying he backed the military alliance's mutual-defense mechanism.
"I just didn't want to even imagine that there could be a World War III," Babis told iDnes.cz news website on Monday, adding that he wanted to convey the clarification to the Polish government.
Polls over the weekend showed the chemicals, agriculture and media magnate well behind former Nato general Petr Pavel, who has pledged unequivocal support for Ukraine. Days ahead of the Jan. 27-28 presidential run-off, Babis's campaign has been pointing to Pavel's military career, raising the specter of the Czech Republic being pulled into an armed conflict.
Pavel and officials from the Czech ruling coalition pounced on the Nato comments. Such statements "would be a scandal in the whole of Nato," Pavel said on Twitter, with a link to the debate. "We can't afford such chaos." The leading candidate Pavel, who once served as Nato's highest-ranking military official, finished first by a razor-thin margin ahead of Babis in the first round of voting earlier this month.
The winner of the run-off will become the fourth head of state here since the fall of communism. He'll succeed President Milos Zeman, who antagonized European Union allies with his support for Vladimir Putin — until the invasion of Ukraine — and political rivals at home by bending constitutional conventions.
Pavel, running as an independent with the endorsement from the ruling parties, has promised a less confrontational stance than Zeman.
Babis is campaigning to become a counterbalance to the center-right government, which he accuses of not doing enough to help people and businesses cope with the worst cost-of-living crisis in decades.