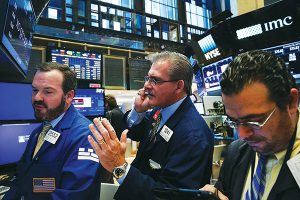 Bloomberg
Global bond yields surged and stocks extended declines at the end of a week that underscored expectations for tighter monetary policy and a slowing economy.
A dollar gauge rose to yet another record and 10-year Treasury yields to the highest in more than a decade, while UK bonds plunged and the pound fell as markets priced in a more aggressive pace of tightening to offset the government's growth plan.
US equity futures fell as Europe's Stoxx 600 Index dropped to the lowest since December 2020 and was poised to enter a bear market. Energy shares led the decline as oil slipped, while Credit Suisse Group AG tumbled to a record after denying a report that it's considering exiting the US.
Goldman Sachs Group Inc slashed its year-end target for the S&P 500 Index to 3,600 from 4,300, citing a higher interest-rate path from the Federal Reserve, while strategists gave up on a year-end rally for European stocks as private-sector activity in the region continued to contract.
Traders ramped up their wagers on Bank of England rate hikes, betting on a 50% chance of a 100-basis-point increase from the central bank at its next rate decision in November. The repricing comes as Liz Truss's government set out the most radical package of tax cuts for the UK since 1972.
The dollar continued its relentless advance amid forecasts for a further 1.25 percentage points of tightening before year-end. Meanwhile, the yen fluctuated as traders braced for more action after Japan intervened to prop up the ailing
currency for the first time
since 1998.
Investors are flocking to cash and shunning almost every other asset class as they turn the most pessimistic since the global financial crisis, according to Bank of America strategist.
Gold fell. The energy market faces a very volatile last quarter of the year, Amrita Sen, co-founder and research director of Energy Aspects Ltd said on Bloomberg Television. "It's just too many different and contradictory factors driving prices right now," she said, citing demand concerns from recessionary fears and supply constraints relating to Iran and Russia, as well as a lack of spare capacity from Opec.
The Stoxx Europe 600 fell 1.5% in London. Futures on the S&P 500 fell 0.8%. Futures on the Nasdaq 100 fell 1%. Futures on the Dow Jones Industrial Average fell 0.8%. The MSCI Asia Pacific Index fell 0.5%. The MSCI Emerging Markets Index fell 1%.
The Bloomberg Dollar Spot Index rose 0.7%. The euro fell 0.8% to $0.9755. The Japanese yen fell 0.3% to 142.84 per dollar. The offshore yuan fell 0.7% to 7.1285 per dollar. The British pound fell 1.3% to $1.1112.
The yield on 10-year Treasuries advanced four basis points to 3.76%. Brent crude fell 1.9% to $88.75 a barrel. Spot gold fell 0.9% to $1,655.89 an ounce.