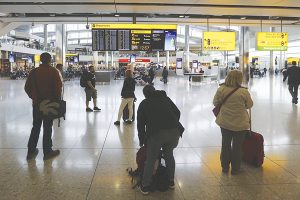 Bloomberg
The UK will reinstate utilisation rules that mandate airlines use their allocated airport take-off and landing slots or lose them in the next season as travel rebounds from the pandemic.
Airlines will be required to use 80% of their airport slots this summer in order to retain them, the Department for Transport said. Carriers will still be able to hand back up to 5% of their slots before March 26, if they're unable to use them, the government said, adding that the measure will help airlines plan realistic schedules and avoid the
last-minute cancellations.
The return of pre-pandemic slot rules highlights how an industry that was among the worst affected by the pandemic has managed a comeback, operating at near Covid-19 levels in large parts of Europe and the US.
Airport slots help manage capacity in congested airports like London's Heathrow and Gatwick hubs, and given their scarcity, they can change hands for tens of millions of pounds. The UK and the European Union eased slot utilisation rules during the pandemic in order to prevent airlines from having to fly so-called 'ghost flights' with empty aircraft just to retain their landing and take-off rights.