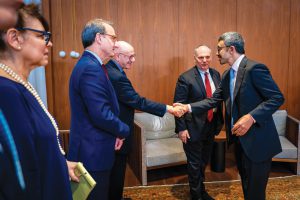 NEW YORK / WAM
The UAE Minister of Foreign Affairs HH Sheikh Abdullah bin Zayed Al Nahyan has met with representatives of Jewish organisations on the sidelines of the UNGA78 in New York.
The meeting discussed a range of issues of common interest, the UN General Assembly agenda, the current situation in the Middle East and ways to enhance the region's security and stability for the benefit of its peoples.
Sheikh Abdullah condemned the irresponsible statements made by the Palestinian President Mahmoud Abbas regarding Jews and the Nazi Holocaust, emphasising the importance of tolerance and human brotherhood values in the UAE's approach to building peaceful and prosperous societies.
He also underscored the UAE's rejection of hate speech, extremism in all its forms, religious intolerance, racism and racial discrimination.
The meeting was attended by Yousef Al Otaiba, the UAE ambassador to the US.