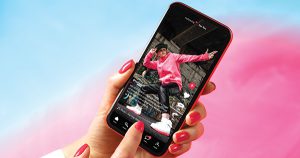 Bloomberg
Alyssa McKay used to work part-time at a frozen yogurt store in Portland, Oregon, making minimum wage to cover her college tuition. Now the 22-year-old earns more than $100,000 a year on the short-video platform TikTok. Brands like Coach, Netflix and Amazon Prime Video pay up to reach her 9 million followers, mostly teenage and pre-teen girls who wouldn't dream of visiting Facebook.
"TikTok definitely 100% changed my life," says McKay, who recently moved into her first apartment with her dog.
The most downloaded app of 2021, TikTok has surged to a billion-plus global users, who consume an infinite feed of short clips delivered instantly by algorithm. While the platform has long helped creators like McKay step to the center of the attention economy, the company is only now starting to cash in on all that popularity.
TikTok raked in nearly $4 billion in revenue in 2021, mostly from advertising, and is projected to hit $12 billion this year, according to the research firm eMarketer. That would make it bigger than Twitter Inc. and Snap Inc. combined — three years after it started accepting ads on the platform.
Alphabet Inc.'s Google and Facebook, now Meta Platforms Inc., are the giants of online advertising, a duopoly so powerful they have been hit with antitrust complaints in the US, the UK and the European Union. TikTok and parent ByteDance Ltd. is shaping up to be the most serious threat to that chokehold since the pair rose to power over the past two decades.
With a billion monthly active users, TikTok is still smaller than Facebook (2.9 billion) and Instagram (2 billion), also part of Meta. Yet TikTok's programming is proving unusually compelling: Its average user in the US now spends about 29 hours a month with the service, more than Facebook (16 hours) and Instagram (8 hours) put together, according to mobile researcher Data.ai. Scott Galloway, a professor at New York University Stern School of Business.
This isn't beginner's luck. ByteDance, TikTok's parent, has been developing apps with algorithms for recommending just the right video clip or news story ever since Zhang Yiming founded the company ten years ago. The Beijing-based firm built a Chinese version of the TikTok platform, Douyin, that already has more than 600 million users and a battle-tested business model. ByteDance's revenue hit an estimated $58 billion last year and its growth is faster than any other major social network.
TikTok is starting to show the profit potential in countries like the US. The company is now charging as much as $2.6 million for a one-day run of a TopView ad — the first thing that pops up on users' feed when they open the app — roughly four times what it charged a year ago, according to a document reviewed by Bloomberg News. A 30-second Super Bowl ad runs about $6.5 million — but TikTok can charge that rate every day.
Advertisers are now making TikTok an integral part of their media strategy and budget. "Two years ago, they were really in the testing experimental mode before the political winds shifted," says Ryan Detert, CEO of the Influential marketing firm. "Now it's beyond testing, and it's like how much money we should be pumping into this platform."
It's the Gen Z version of the product placement that's been around for decades — think Nike in Back to the Future or FedEx in Cast Away. TikTok set up a $200 million fund in 2020 to pay creators to get views, and pledged to grow the pool to $1 billion in the US over the next three years. TikTok has teamed up with Shopify Inc. to let merchants embed their web shops into videos on the platform. The transactions have been processed by those third-party sites, similar to on Facebook Shops.
The intrigue is largely lost on TikTok's stars. Creators like McKay worry less about who's calling the shots in Beijing or Washington than creating just the right skit for a viral hit.