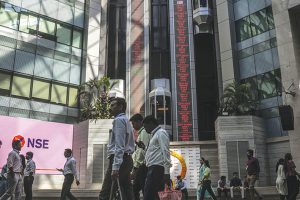 BLOOMBERG
Stocks in India rebounded from the brink of a technical correction amid choppy trading as investors assessed the impact to local markets from the crisis at Credit Suisse group AG.
The benchmark NSE Nifty 50 Index had slid as much as 0.7% on Thursday, taking its losses from an all-time high on December 1, 2022 to 10% before bouncing back. The gauge ended little changed in Mumbai, still faring better than a broader gauge of Asian equities that lost more than 1% for the day.
Concerns about rising US interest rates and a jolt to investor sentiment from the selloff in Adani Group's stocks has weighed on Indian equities since early December. Still, a large domestic market and a banking system relatively insulated from global shocks is giving some investors' confidence to buy into the weakness as corporate earnings are expected to keep growing.
"We will definitely be buying into this correction," said Anshul Saigal, head of Kotak Asset Management's portfolio management service. The ongoing bout of correction should not worry investors as it is driven by global reasons, he added.
For 2023, earnings for MSCI India Index members are expected to rise about 16% versus an estimate of 14% growth for MSCI China Index companies, and a 4.3% decline for those on a broader emerging markets gauge, according to data compiled by Bloomberg Intelligence.
Meanwhile, foreign funds have taken out a net $2.2 billion from Indian shares so far this year. The selling was compounded by massive declines in Adani Group stocks after Hindenburg Research accused the ports-to-power conglomerate of accounting fraud and stock manipulation. Adani has denied all allegations.
The rout in the Adani Group, which started late January, reached as much as $153 billion and erased nearly two-thirds of its combined stock value before clawing back some of the losses. The drawdown, however, cost India its spot among the world's top five markets by value.
Indian stocks — among the best-performing major markets globally last year — have also lost some of their appeal as an increase in local borrowing costs as well as an unusually harsh summer have clouded the outlook for one of the world's fastest-growing major economies.
"Rich valuations of Indian equities, along with a sluggish rural demand and higher interest rates cap upside in the near-term," according to Nitin Chanduka, a strategist at Bloomberg Intelligence. Projections for El-Nino conditions could adversely impact the monsoon season, clouding the outlook for rural demand and posing a key risk for equity markets, he said.