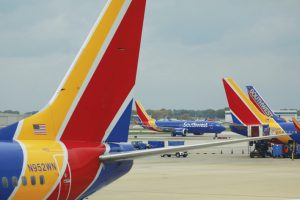 BLOOMBERG
Southwest Airlines Co said it has forged a two-decade agreement to buy as much as 680 million gallons of renewable jet fuel, part of the US carrier's goal of slashing climate-polluting emissions.
The sustainable aviation fuel (SAF) will be sold by Arizona-based USA BioEnergy LLC starting as early as 2028, Southwest said in a statement.
USA BioEnergy is working to build a $2 billion-plus plant in Texas to make green jet fuel from wood waste, the company's chief executive, Nick Andrews, said in an interview.
Pressure for US airlines to become more climate-friendly has been ratcheting up, including from the White House. At the same time, energy companies are looking to take advantage of government incentives, including tax credits in President Joe Biden's landmark climate law, to make cleaner fuels. Carbon dioxide emissions from aviation, an industry that is seen as difficult to electrify, are expected to jump by 94% from pre-pandemic levels, according to BloombergNEF.
The purchase of as much as 680 million gallons is over the life of the 20-year pact, according to Andrews. During the term of the deal, the equivalent of 2.59 billion gallons of net zero carbon emissions SAF could be produced, once blended with conventional aviation fuel, avoiding 30 million tons of carbon dioxide, according to Southwest.
The Dallas-based airline burned through 1.58 billion gallons of jet fuel during the first nine months of this year.
The deal announced also gives Southwest the chance to buy an additional 180 million gallons of SAF annually from USA BioEnergy's future planned facilities, according to the statement.
Southwest said it has a goal of replacing 10% of its total jet fuel consumption with SAF by 2030 and to achieve net zero carbon intensity by mid-century.