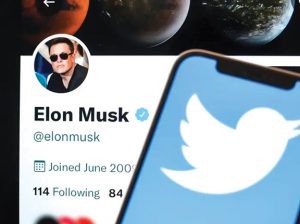 Bloomberg
Billionaire Elon Musk issued a humorous late-night response to Twitter Inc.'s preparations to sue and force him to complete a $44 billion takeover of the company.
Eschewing any words of his own, the Tesla Inc. and SpaceX chief posted a meme late Sunday featuring images of himself laughing with captions recounting one version of events over the past few months. It conveys a light-hearted attitude from the world's richest man to what has been a complex and expensive deal that's weighed on Tesla shares and gone through several iterations of provisional funding.
Musk agreed to take Twitter private at a price of $54.20 per share in late April, after his acquiring a significant stake pushed the stock price up. Twitter shares traded at $36.81, a third below the takeover deal's price. Musk has expressed growing discontent about the deal and argued Twitter failed to disclose essential information, such as the specific number of fake and automated accounts on the service.
"The Twitter Board is committed to closing the transaction on the price and terms agreed upon with Musk and plans to pursue legal action to enforce the merger agreement," Twitter Chairman Bret Taylor tweeted.
Meanwhile, Twitter Inc has hired merger law heavyweight Wachtell, Lipton, Rosen & Katz as it races to sue Elon Musk for moving to dump his takeover of the company.
The social media company aims to file suit early this week, according to the people. By hiring Wachtell, it gains access to lawyers including Bill Savitt and Leo Strine, who served as Chancellor of the Delaware Chancery Court, where the case will be heard.
Musk has brought in Quinn Emanuel Urquhart & Sullivan LLP. The firm led his successful defense against a defamation claim in 2019 and is representing him as part of an ongoing shareholder lawsuit over his failed attempt to take Tesla Inc. private in 2018.
An official for Wachtell Lipton declined to comment, and officials for Quinn Emanuel couldn't be reached. A Twitter spokesperson declined to comment. Musk and Jared Birchall, the head of his family office, did not respond to a request for comment.
Delaware is the corporate home to more than half of US public companies, including Twitter, and more than 60% of Fortune 500 firms. There, chancery judges — business law experts — hear cases without juries and can't award punitive damages. Based on previous merger fights, efforts to terminate a deal can play out within a few months, often ending with settlements to avoid further wrangling.