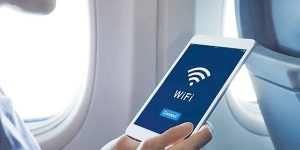 Bloomberg
SpaceX wants to show the world its Starlink satellite system can deliver Netflix and YouTube at 30,000 feet. So it recently held a demo for the media aboard a jet operated by its first airline customer, regional carrier JSX.
The short jaunt from Burbank to San Jose, California marks the start of Elon Musk's bid to seize in-flight business from satellite providers Intelsat and Viasat Inc that already serve thousands of aircraft.
It won't be easy, even for a serial market disrupter such as Musk.
"Are they a serious competitor? Yes," said Jeff Sare, president of commercial aviation for Intelsat, a leading provider of wireless service on airlines. Still, Sare said, "We don't believe there's anybody that can beat us."
Starlink, part of Musk's Space Exploration Technologies Corp, delivers broadband from a constellation of low-flying small satellites. Lower satellites circle the planet in 90 to 120 minutes. That's a departure from the established practice of using a few powerful spacecraft in higher and slower orbits.
An upside for Starlink is its signals arrive sooner. That's a plus for the company's core business of serving broadband to mainly rural households in sparsely populated areas. Starlink has launched more than 3,000 satellites and serves over 400,000 subscribers, the company said in recent filings.
But a downside for Musk's technology is that small satellites have less capacity and may struggle to meet the needs of big aircraft in crowded skies. Scores of airliners swarm travel hubs, with each plane carrying 100 or more connected passengers. Because satellites whiz around the globe, only a few may be serving an area such as Atlanta and its busy airport, raising capacity questions, B Riley Financial said in a note last year.
SpaceX said projections underestimate how quickly the system is evolving.
US regulators recently cited Starlink's "still developing technology" when they turned down the service for an $866 million government subsidy.