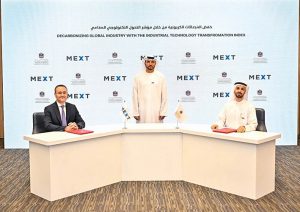 ABU DHABI / WAM
The Ministry of Industry and Advanced Technology (MoIAT) and Mext signed a memorandum of understanding (MoU) to implement the UAE's Industrial Technology Transformation Index (ITTI) and deploy the index overseas for the first time. The move is part of the UAE's efforts to accelerate decarbonisation and digitalisation within the global manufacturing sector.
First implemented in the UAE in February in line with the UAE Net Zero by 2050 strategic initiative, the ITTI will soon be deployed in the wider region following the MoU which was signed on the sidelines of the 'Make it in the Emirates Forum' by Tariq Al Hashmi, Director of Technology Adoption and Development at MoIAT, and Efe Erdem, Executive Director of Mext, in the presence of Omar Suwaina Al Suwaidi, Under-Secretary of MoIAT.
Based in Türkiye, Mext supports industrial companies along their digital and green transformation journey towards Industry 4.0. Mext is the Technology and Innovation Centre of the Turkish Employers' Association of Metal Industries (MESS) and it includes an ecosystem of more than 50 globally recognised technology providers, universities, and institutions.
Launched under the Technology Transformation Programme by MoIAT and the Abu Dhabi Department of Economic Development (Added), the ITTI is a comprehensive framework to measure the digital maturity and sustainability of factories and formulate a roadmap for industrial transformation.
Sarah Al Amiri, Minister of State for Public Education and Advanced Technology, said that this partnership will pave the path for the ITTI to be implemented in the wider region, representing a significant step in the UAE's efforts to help accelerate the decarbonisation of the global manufacturing sector.
"By implementing the index with our strategic partners at Mext, MoIAT is driving digitalisation and sustainable industrial development in the region in line with our role as a champion of 4IR, advanced technology, digital transformation and innovation."
Al Amiri added, "We know that the decarbonisation of industry must be an inclusive and global effort. That is why the UAE is committed to creating enablers that support industries around the world to harness advanced technologies and enhance efficiency. We are actively seeking to engage countries and partners that share our ambition to transform industry through digitalisation and sustainable practices."
Efe Erdem, Executive Director of Mext, commented, "Mext will be glad to share expertise and technical knowledge from Türkiye with the industry in UAE, fostering new collaborations and opportunities within the framework of the new MoU."
Announced at the World Government Summit 2023, the ITTI enables manufacturers to make data-driven decisions to allocate resources more effectively and unlock financial incentives.