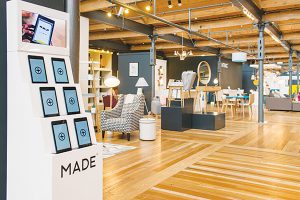 Bloomberg
Online furniture store Made.com Group Plc put itself up for sale after the cost-of-living crisis and supply-chain snarls severely disrupted a business that boomed during Covid-19 lockdowns.
The UK company kicked off a strategic review, saying it hasn't received any formal offers. Made.com said it's considering debt financing, taking on a business partner or a complete sale or merger.
Made.com also withdrew its full-year guidance amid the downturn in furniture sales, which followed a boom during Covid lockdowns when many people were setting up home offices. The global spike in
shipping costs has squeezed margins and undermined the company's business model.
Brent Hoberman, the creator of travel website Lastminute.com, co-founded Made.com in 2010 in an attempt to offer stylish furniture at cheaper prices by selling directly to consumers and eliminating traditional retailers.