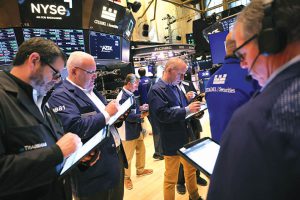 BLOOMBERG
The dollar extended a decline, with a gauge of greenback strength hitting its lowest level since August, amid speculation the Federal Reserve is nearing the end of its rate-hike cycle. Traders are currently pricing in about a 30% chance of a first Fed rate cut in March following cool inflation data last week. Investors are awaiting publication on Tuesday week of minutes of the last Fed rates meeting for further insight into policy makers' thinking. "The dovish Fed narrative remains in place," said Win Thin, global head of currency strategy at Brown Brothers Harriman & Co.
"There is likely to be ongoing downward pressure on US yields and the dollar." US equity futures were steady after a three-week stock rally that propelled the S&P 500 to an 11-week high.
Microsoft Corp climbed more than 2% in pre-market trading after appointing Sam Altman, the OpenAI co-founder ousted from his startup last week, to lead its in-house artificial intelligence team. Treasury yields edged higher ahead of a US 20-year auction. The Stoxx Europe 600 index fluctuated as a slew of negative corporate news weighed on shares. Bayer AG slumped more than 10% after the German pharmaceutical giant stopped a key drug trial and suffered a defeat in a trial related to its Roundup weed killer.
Ashtead Group Plc plunged after the UK equipment-rental company cut its revenue forecasts. Julius Baer Group Ltd fell as much as 9.6% after the Swiss bank warned of a profit decline amid rising bad-loan provisions. Italian banks rallied after Moody's Investors Service lifted its outlook on the country's debt to stable, removing the immediate threat of a downgrade to junk. Italy's yield premium over German bonds narrowed. The European Central Bank (ECB) may have to raise borrowing costs again if investor bets on monetary loosening undermine the institution's policy stance, Governing Council member Pierre Wunsch said on Monday. He was the first of a number of ECB officials set to speak on Monday.
In Argentina, libertarian candidate Javier Milei defeated Economy Minister Sergio Massa to win the presidential runoff. Argentina's bonds rallied, while a gauge of emerging-market currencies gained along with developing-nation stocks.
Elsewhere in emerging markets, Zambia's eurobonds plunged after the country said it can't implement a restructuring pact with bondholders as not all creditors supported the agreement. Securities due 2027 fell more than 2 cents in the dollar. The offshore yuan strengthened after the People's Bank of China boosted its daily reference rate for the currency to the strongest since August.
The nation's commercial lenders on Monday kept their benchmark lending rates unchanged, in line with the central bank's decision this month to maintain policy rates in favor of other means to support stimulus spending. Japan's Nikkei 225 Stock Average briefly surpassed its June intraday peak to reach the highest level since 1990, extending its gains this year to about 28%.
The index has been boosted by recent yen weakness, solid company earnings, and corporate governance reforms.