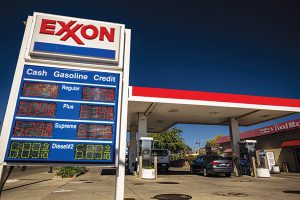 Bloomberg
Exxon Mobil Corp. reaped a record $56 billion annual profit but disappointed some investors by holding the line on share buybacks.
Full-year profit, excluding one-time items, jumped 157% from 2021, far exceeding the driller's prior record of $45.2 billion in 2008, which at the time marked the biggest in US corporate history.
The stock initially fell almost 4% in pre-market US trading before clawing back most of those losses. Analysts noted that Tuesday's company statement lacked any announcement of plans to funnel more of that windfall into additional share
repurchases.
Exxon's results followed those of US rival Chevron Corp, which posted a surprise earnings miss just days after announcing a mammoth
$75 billion share-buyback program.
The five so-called supermajors are swimming in cash after a record 2022 but pressure is mounting on executive teams to satisfy competing demands: investor appetite for bigger payouts and buybacks versus political outrage over windfall profits during a time of war and economic dislocation.
Chevron was excoriated by the White House and Democratic members of Congress when it disclosed plans last week to funnel $75 billion to investors in the form of stock repurchases.
Exxon expanded buybacks multiple times last year and already has signalled its intention to repurchase $50 billion of stock through 2024. Chief Executive Officer Darren Woods is likely to be probed on whether Exxon can increase the pace of buybacks again when he hosts a conference call with analysts at 8:30 am New York time.
The Texas oil giant has continued to invest in major projects in Guyana and the Permian region during the pandemic, which by Exxon's own estimates should have the knock-on effect of driving production to the equivalent of more than 4 million barrels a day by 2027, up about 8% from current levels.