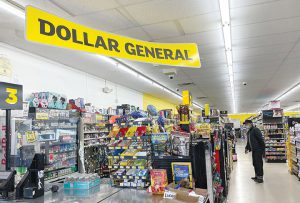 BLOOMBERG
Dollar General Corp said it would spend an extra $100 million on its stores, mostly to increase staffing, after incurring a series of fines from the US government over working conditions.
The investment will be "primarily in incremental labour hours," Chief Executive Officer Jeff Owen said in a statement as Dollar General reported earnings. The spending will help the company "build on our sales momentum and capture additional market share by further enhancing store standards and the in-store experience."
The discount retailer is planning increased staffing after racking up more than $15 million in fines from the US Labor Department since 2017, including $1 million, with inspectors citing workplace-safety violations such as blocked emergency exits and cluttered storage areas. Dollar General has 19,000 stores and 28 distribution centres across 47 states. The company employs more than 173,000 workers, according to the Labor Department.
The company also faces more competition for workers: Walmart and Home Depot both announced plans to raise wages. Dollar General reiterated a forecast it made last month that adjusted earnings per share will grow no more than 6% in the current fiscal year.