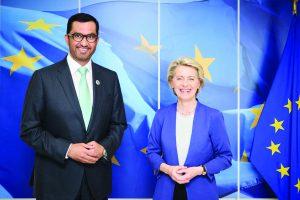 BRUSSELS / WAM
Dr Sultan bin Ahmed Al Jaber, Minister of Industry and Advanced Technology and COP28 President Designate, met with Ursula von der Leyen, President of the European Commission, to discuss preparations for COP28, the 2023 UNFCCC climate conference, which will take place in Dubai from November 30 to December 12.
Dr Sultan was joined by ambassador Lana Zaki Nusseibeh, UAE's Permanent Representative to the United Nations in New York and Envoy of the Minister of Foreign Affairs of the UAE to the European Union.
Ursula von der Leyen was accompanied by Frans Timmermans, Executive Vice President of the European Commission, and Josep Borrell, European Union High Representative for Foreign Affairs and Security Policy and Vice-President of the European Commission.
During their meeting on Wednesday in Brussels, they issued a joint statement reaffirming their commitment to work together to facilitate the highest possible ambition at this year's UNFCCC conference, and agreed on the importance of several critical elements that could frame an ambitious COP28 outcome.