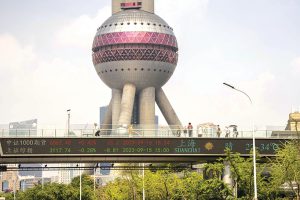 BLOOMBERG
Chinese stocks slid following a much-anticipated meeting between Presidents Joe Biden and Xi Jinping, as traders saw only modest progress in the strained ties and as fresh data renewed concern over the world's second-largest economy.
The Hang Seng China Enterprises Index closed down 1.4% to lead losses among major Asia equity gauges. It jumped 4% in the previous session partly as investors looked to the summit for catalysts. On the mainland, the benchmark CSI 300 Index snapped a two-day advance to drop nearly 1%.  Hopes were running high that the Xi-Biden talk will prove a turning point  after geopolitical tensions dragged Chinese stocks for much of the year.  While Biden said the talks had yielded progress in amending relations, traders appeared to be taking the remarks with a grain of salt. Foreigners were back to selling mainland shares on Thursday.
Investors say Biden calling Xi a dictator once again — in response to a question at his press conference — potentially casts a shadow over the progress made by both sides.
"The China investment landscape is likely to remain complex in the near term," said Manish Bhargava, a fund manager at Straits Investment Holdings in Singapore, adding that the meeting is a step in the right direction. Biden's comments "referring to Xi Jinping as a dictator are contributing to the decline in the Chinese stock market."
In a sign of how much remains to be done, there was no evidence of progress on bigger issues like US curbs on microchip exports, tariffs or tensions in the South China Sea, where both countries' ships and planes have had a series of provocative encounters.
Some sectors mentioned as areas of cooperation in the bilateral meeting advanced. Shares of Chinese airlines rose after the leaders agreed to significantly increase direct flights next year.
The property sector continued to be a source of bad news, with data showing home prices fell the most in eight years in October in a sign that the industry's slump is worsening. That comes after the monthly economic report showed an uneven recovery in the Chinese economy. A Bloomberg Intelligence gauge of developer shares fell 1.1%.
The Hang Seng Tech Index slumped 1.9% with Xiaomi Corp the biggest drag. The stock plunged more than 6% as investors showed little excitement at the smartphone giant's debut electric vehicle, a five-seat sedan with a panoramic glass roof.