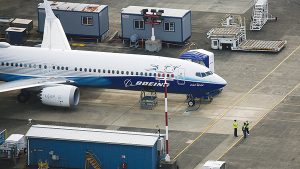 Bloomberg
Boeing Co.'s rainmaker in Washington, a former auto lobbyist who goes by the nickname "Z," is restoring some of the swagger that once made the aerospace giant a force on Capitol Hill.
A badly needed legislative victory in late December let Boeing continue plans for its cash-cow 737 Max over the protests of family members of victims of two fatal crashes. Now Ziad Ojakli, 55, has his sights set on the White House, where Boeing needs support to re-establish sales of the plane in China.
Reopening China and restoring the aviation giant's political clout would help cement a turnaround under Boeing Chief Executive Officer Dave Calhoun after years in the DC doghouse. The planemaker shifted its headquarters within eyeshot of the Pentagon last year, citing a need to foster better relations with the US government. Boeing has stumbled badly on defense contracts as well as with commercial aviation regulators, and its executives endured a bipartisan shellacking on Capitol Hill over the Max crashes in 2018 and 2019.
Ojakli has faced a steep learning curve since joining Boeing in October 2021 as executive vice-president of government operations. The aviation titan's political sway has been dented from years of internal and external turmoil. And its famously plugged-in DC operations were hamstrung by a wave of departures soon after he arrived.
For the first time in years, Boeing has a chance to make headway on Max sales and deliveries to China as the two superpowers search for common ground. US Secretary of State Antony Blinken is planning to visit Beijing early next month, potentially followed by Chinese President Xi Jinping travelling to the US in November to attend an Apec leaders' summit. In one promising sign, a state-controlled Chinese airline flew a 737 Max passenger jet on January 13 — the first such flight by a domestic airline in nearly four years.
While the company has the attention of senior White House officials as one of the largest US exporters, its concerns in China compete with President Joe Biden's other priorities, like tensions over Taiwan and steps to disentangle the world's two largest economies.
China's tilt to Airbus SE in recent years has been costly for the US titan, which delivered just eight planes to the Asian nation last year compared to 117 for its European rival.
In US-China talks, Biden's team has tended to focus on Chinese economic practices that disadvantage many American companies, rather than pressing for specific concessions for Boeing.