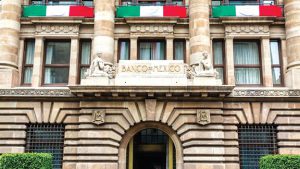 Bloomberg
Mexico's central bank unexpectedly accelerated the pace of interest rate increases, a hawkish move that seeks to contain quickly-deteriorating inflation expectations.
Policy makers led by outgoing central bank Governor Alejandro Diaz de Leon raised the benchmark rate by a half-point to 5.5%, their most aggressive hike since February 2017. They surprised all but eight of 25 economists surveyed by Bloomberg, with the remaining 17 forecasting a fifth straight quarter-point hike.
The bank's decision — backed by four of its five board members — sent the Mexican peso rallying as much as 1.2%,
its biggest intraday jump since December 2.
Policy makers said in a statement their move was driven by "the magnitude and diversity" of inflation shocks, "along with the risk of price formation becoming contaminated, and the challenges posed by the ongoing tightening of monetary and financial global conditions."
Inflation in Mexico has accelerated steadily this year, remaining above target amid a cautious tightening of monetary conditions designed to maintain some support for the economy. But policy makers have been clear that their accommodative policy has limits, and that sustained price pressures or any deterioration of inflation expectations would be met with a decisive response.
"Though inflation is primarily imported, this 50 basis-point increase was needed to contain inflation expectations," said Gabriela Siller, director of economic analysis at Banco BASE. "Inflation won't be reduced immediately, but it's a good sign."
Across Latin America, major inflation-targeting central banks are quickly tightening monetary conditions to rein in rising consumer prices. Among developed economies, the Bank of England surprised investors earlier with a 15 basis-point increase to its benchmark rate, while the US Federal Reserve said three rate hikes are on tap for next year.