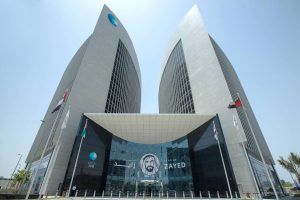 ABU DHABI/ WAM
Abu Dhabi Islamic Bank (ADIB) listed successfully its US$500 million green sukuk, the world's first dollar denominated green sukuk, on London Stock Exchange's International Securities Market and Sustainable Bond Market.
London Stock Exchange's has welcome ADIB's listing, as the world's first dollar denominated green sukuk. This follows the bank's recent successful listing of US$750 million AT1 perpetual sukuk.
The bank successfully marked the issuance of its US$ 500 million green sukuk. The five-year senior sukuk rated A+ by Fitch are priced at a profit rate of 5.695 percent per annum and are payable semi-annually. The issuance was met with exceptional demand with the final orderbook closing at USD 2.6 billion, representing an oversubscription rate of 5.2 times. This has allowed the final price guidance to be tightened meaningfully by 30 basis points to 115 basis points over five-year U.S. Treasury Rate.
Commenting on the momentous milestone, Nasser Al Awadhi, ADIB Group Chief Executive Officer, said, "We are celebrating a great milestone for the ADIB with the listing of the world's first ever dollar denominated green sukuk in an international financial market. This success underscores the bank's steadfast commitment to sustainability and to offer a platform for like-minded investors who share our vision of supporting environmentally and socially beneficial projects. We are delighted by the positive response from global and regional investors, demonstrating a shared commitment to responsible financial practices and sustainability. This milestone reinforces our position as a leader in sustainable finance and reaffirms our commitment to creating a lasting impact on our community and the world, guided by Islamic principles and global sustainability standards".
ADIB intends to allocate an amount equal to the net proceeds of this issuance to fund eligible green projects to accelerate climate transition, which may include the financing or refinancing of green projects as well as financing customers for eligible green projects as described under the Eligibility Criteria in the ADIB sustainable finance Framework.