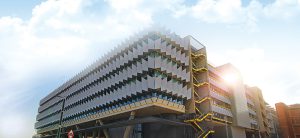 ABU DHABI / WAM
The General Administration of Abu Dhabi Customs recorded a growth of 37% in digital customs transactions through the border crossings of Abu Dhabi during the first half of 2023, compared to the same period in 2022, achieving a growth rate of 35.8% in clearance of goods transactions, and 20% growth in customs clearance request in free zones areas.
Abu Dhabi Customs also recorded a growth of 6% in customs declaration during the first six months of the current year, while pre-arrival clearance transactions accounted for 38% of total customs clearance transactions at all customs centres across the emirate.
Pre-arrival customs clearance, which accounted for 57% of exit declarations and 22% of entry declarations during the first half of the current year, represented a qualitative addition, especially with the launch of a digital clearance feature for non-residents and unregistered companies from outside the UAE within the framework of the "Abu Dhabi Programme for Effortless Customer Experience".
The General Administration of Abu Dhabi Customs emphasised that the growth rates during the first half of 2023 reflect the country's overall economic growth, especially in Abu Dhabi, across all sectors.
These efforts aim to solidify the UAE's position in the global economic system in line with achieving the objectives of the UAE Centennial 2071 and 'We the UAE 2031' vision, which seeks to enhance the country's status as a global hub and an attractive and influential economic centre.
Abu Dhabi Customs further explained that as part of its continuous efforts to establish global leadership in the customs sector, it continually provides smart solutions and digital technologies based on advanced technology and artificial intelligence, applying the best international practices to enhance customs work.
During its strategic transformation journey, it has succeeded in developing its work system and transforming all its services into 100% digital processes, enhancing Abu Dhabi's position as a leading hub for investment.