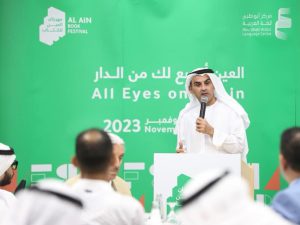 AL AIN/ WAM
As part of the agenda of the Al Ain Book Festival (AABF) 2023, organised by the Abu Dhabi Arabic Language Centre (ALC) from 19 to 25 November at various cultural and heritage sites across Al Ain city, the Centre held a meeting with the publishers participating in the festival to highlight its efforts in supporting the UAE publishing sector, and to explore ways to develop the sector with better future prospects.
During the meeting, Dr. Ali bin Tamim, Chairman of the ALC, asserted that, "Ensuring the sustainability of book fairs in the UAE is in line with the vision of the country's wise leadership to strengthen the publishing industry and encourage professionals to produce intellectual and creative works that reinforce a strong reading culture and advance the presence of the Arabic language in the community's consciousness, particularly among the youth, who are the future."
"The benefits and exemptions that the UAE grants to publishers confirm its commitment to this sector, which plays a vital role in promoting culture both in terms of production and reception," bin Tamim continued. "Books will always be the intellectual vessel that documents intellectual and creative output, preserving it through the ages."
Dr. Ali bin Tamim applauded the Al Ain community for their engagement with the festival's activities, noting that the remarkable response to previous editions has encouraged the Centre to intensify its efforts to offer specialised cultural programmes that cater to the diverse interests of the public, while also meeting the needs of various art sectors, with a particular focus on Nabati and Sung poetry, given their rich history and presence in local culture. "This approach aligns with our strategic goals at the Abu Dhabi Arabic Language Centre to organise unique cultural and knowledge-focused events that consolidate the presence of the Arabic language in communities, support the cultural landscape with inspiring works and publications, and shed light on creative talents from the UAE and across the Arab world," he explained.
He went on to note that the increased attention given to the different components of local culture and the efforts to highlight its various forms stem from the recognition that local heritage inherently harbours wisdom deep within, which leaves the door wide open for a new human perspective of the broad meaning of culture, which is the exact message that Al Ain Book Festival strives to convey.
Al Ain Book Festival is being held under the theme 'All Eyes on Al Ain', with the participation of 150 exhibitors including Emirati and Arab publishing houses, presenting over 60,000 distinctive cultural titles. The festival offers more than 950 events and specialised programmes, distributed across various festival locations, including Al Ain Square – Hazza bin Zayed Stadium, Qasr Al Muwaiji, Bait Mohammed bin Khalifa, United Arab Emirates University (UAEU), Zayed Central Library, Al Qattara Arts Centre, and several malls around Al Ain city.