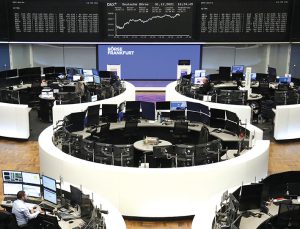 BLOOMBERG
European stocks were little changed and the euro edged higher as traders braced for the European Central Bank's (ECB) interest-rate decision. The Stoxx 600 was steady, while S&P 500 futures climbed after Wednesday's US inflation report was in line with estimates, fanning hopes the Federal Reserve will pause rate hikes. The dollar weakened against its Group-of-10 peers and oil headed for a 10-month high.
Evidence is building that Europe is facing persistent cost pressures that have been made worse by soaring energy prices. Money markets are pricing in a two-thirds chance the ECB raises interest rates by a quarter of a percentage point, a rapid shift from earlier this month where traders were firmly in the camp rates would be held steady.
"The market is split on the ECB right now and we have to acknowledge the hawkish shift in expectations over the last two weeks," said Geoffrey Yu, senior strategist at BNY Mellon. "The risk-reward heading into the decision is not good for the euro."
Oil prices are adding to the inflationary concerns, with West Texas Intermediate trading near $89 a barrel and Brent above $92. Demand will eclipse supply by 1.2 million barrels a day on average during the second half, the IEA projected.
Elsewhere, shares of Arm Holdings Plc were due to start trading on the Nasdaq Global Select Market, after the chip designer priced its initial public offering at $51 a share, the top end of the range.  The company raised $4.87 billion, valuing itself at about $54.5 billion in the largest listing of the year.
In Asia, demand for Japanese 20-year bonds at auction was the strongest since May 2020, soothing concerns about a potential normalising of monetary policy by the Bank of Japan.  Japan's Nikkei 225 outperformed the region and equities in South Korea and Australia also gained. Hong Kong and mainland China shares fluctuated as concerns remained in the property sector. Country Garden Holdings Co fell as the deadline approaches for holders of a yuan bond to vote on the company's repayment extension request.