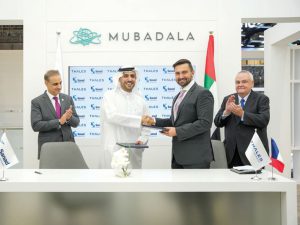 DUBAI / WAM
Sanad, the global aerospace engineering and leasing solutions leader wholly owned by Abu Dhabi's sovereign investor Mubadala Investment Company, has entered into a landmark strategic framework agreement with Thales, a global leader in advanced technologies within Aerospace, Defence Security and Digital Identity Security.
The agreement expands Sanad's Maintenance Repair and Overhaul (MRO) services into the dynamic fields of airport security and air traffic control and digital operation, beckoning a pivotal moment in the region's aviation landscape.
The agreement was signed during the Dubai Air Show with Mansoor Janahi, Managing Director and Group CEO of Sanad and Elias Merrawe, Vice president, Civil Business of Thales in the Middle East, marking a significant milestone in the region's aerospace sector.
This alliance harnesses the unique capabilities and expertise of both Sanad and Thales to propel the maintenance and delivery of essential airport systems, ensuring the safe and effective operation of major travel hubs in the Middle East and Africa.
Building on the foundation of a Memorandum of Understanding signed by Sanad and Thales in 2022, the two companies are poised to deepen their collaboration in the rapidly developing realms of airport services.
Under the new agreement, the partnership will extend into the domain of airport security and digital operations, encompassing crucial areas such as airport safety and security systems in this endeavor, Thales will take the lead in designing and constructing these vital systems.
Concurrently, Sanad will assume a pivotal role in overseeing critical tasks such as maintenance, installation, rigorous testing, and commissioning activities for these cutting-edge systems.
This collaborative synergy of resources and expertise ensures that Sanad and Thales together play an instrumental role in shaping and secure and resilient future for aviation operations, ultimately guaranteeing safety and operational efficiency within the industry.
Mansoor Janahi stated, "Our strategic alliance with Thales represents a significant milestone in Sanad's journey. By collaborating with an industry leader, we contribute to sustaining efficient operations at some of the busiest airports in the Middle East and Africa. We aim to shape a more cohesive and collaborative aviation industry rooted in engineering excellence and technological innovation. Additionally, we are contributing to building local capacity and reinforcing Abu Dhabi's position as a leading aviation hub by expanding our partnerships, capabilities, and geographic footprint."
Elias Merrawe said, "Sanad's outstanding global aerospace engineering and leasing solutions combined with Thales' high technologies will create prosperous synergies in the field of airport operations and security. This strategic agreement will bring innovative technologies to the front and boost local industrial growth."
"As we look to build a future that we can all trust, innovation and knowledge exchange play a vital role in developing a sustainable aviation future."
Sanad and Thales will collaborate closely to enhance air traffic management and advance airport operations in the Middle East and Africa by deploying innovative systems and MRO services.
Airports in the Middle East are projected to invest over USD 150 billion in capacity expansion due to global air passenger demand, which is projected to increase more than two-fold by 2040.
As a result of this expansion and the emergence of new airports, upgrades to meet future needs will be necessary, leading to increasing demand for airport security and air traffic management systems, as well as subsequent MRO services requirements.
Additionally, domestic passenger air traffic in Africa is forecasted to more than quadruple in the next two decades, which will result in investments to modernise the continent's aviation infrastructure and air traffic management, airports security along with safety systems.
For over 35 years, Sanad has established itself as a leading full-service Aviation MRO provider, trusted by over 30 customers worldwide, including leading airlines and global OEMs. Its long-term growth has been fuelled by its ability to address the needs of an ever evolving and dynamic aerospace industry through the delivery of innovative solutions underpinned by engineering excellence and technological innovation.
The strategic agreement is a pivotal moment in Sanad's journey as the company continuously optimizes and expands its range of service capabilities and sets its sights on growth and expansion beyond the UAE.