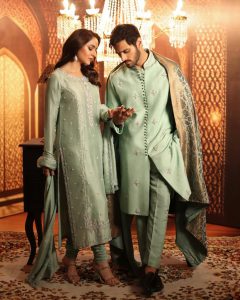 DUBAI / GULF TIME
Celebrating her 2nd year in Dubai high fashion label Erum Jamal has recently unveiled her formal collection 'ISHQIYA' with an eye to tap the Middle Eastern and the UAE market in general.
The popular fashion brand of hand crafted clothes offers a plethora of clothing options for men, women and children.
Inspired by love in all its forms design house of Erum Jamal has recently unveiled gem of collection named 'ISHQIYA' which is inspired by love in all its glory, just like a timeless tale.
The ethnic collection consists of beautifully designed handcrafted clothes in breathable pure fabrics, classy and contemporary prints and sharp and perfect fits make this collection a must have.
Talking about her inspiration and ideology, Erum Jamal said, "I believe in providing hand crafted personal touch to each of my garment so for this reason I go an extra mile and create garments keeping in mind the personality of the person. My garments exude class with comfort along with prices that justify quality."
The collections of Erum Jamal have been received with much fervor and anticipation by the locals and the expats alike.
Her ensembles have gained tremendous popularity amidst Bollywood and entertainment celebrities, client and patrons spread across the globe.
On the launch of this new collection is Dubai, Erum added that 'Dubai is a leading fashion cosmopolitan of the world and it is most apt to launch a befitting Indo-western collection in this iconic city where classy, elegant and fashionable women make beautiful lives out of ordinary days."
To a question about UAE operations and international expansion, Erum elaborated that her company is already operating in the UAE market since 2021.
"Our New York store started from February 2021, we ventured into Dubai with Ensemble in March 2021 this was followed with our second store in Dubai at Boulevard One in March 2023 and lastly we ventured into Paris with a store in September 2023," Erum concluded.