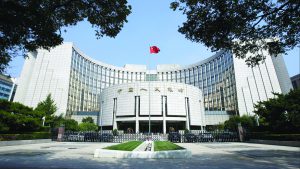 BLOOMBERG 
China's yuan jumped after the country's central bank moved to shore up the currency following a recent selloff, vowing to curb speculation and calling for more stability in the foreign exchange market.
The People's Bank of China (PBOC) and the foreign exchange regulator will "strengthen market expectation guidance and take actions to correct pro-cyclical and one-way market behaviours when necessary," according to a statement.
The offshore yuan gained as much as 0.5% to 7.0121 per dollar and pulled away from 7.0750, its weakest level since December 2022.
"The announcement definitely came as a surprise given that their daily fixing hasn't really provided much pushback on this week's CNY depreciation," said Simon Harvey, head of FX analysis at Monex Europe in London. "They aren't happy with the pace of depreciation in the currency given marginal developments in the fundamentals."
The PBOC's move comes as a weaker-than-expected run of Chinese economic data pressured the yuan, while the US dollar has gained broadly. It followed a meeting of the China FX Committee, which is a market-guiding body made up of officials from the PBOC, State Administration of Foreign Exchange and industry veterans. PBOC Deputy Governor Liu Guoqiang was in attendance.
Officials called for market stability and for drastic moves in the exchange rate to be reduced.
The warning came even as the yuan traded within the daily trading band for the currency set by the PBOC at 6.8949-7.1763 on May 19, suggesting the central bank doesn't see 7 as a key level and is "unlikely to be heavy-handed in managing FX volatility," strategists at Nomura International wrote in a note.
The last time the yuan weakened beyond 7 per dollar for a sustained period was in September, during a time of heightened volatility when the dollar gained broadly, triggering a rapid move to 7.2.
"The current rise has not been accompanied by as sharp a spike in volatility," strategists at RBC Capital Markets wrote in a note, adding that the key factor behind the yuan's current weakness was the economy losing momentum without falling "into an acute crisis situation."
A stronger dollar has also been at play in the latest bout of yuan weakness, given that the US currency has benefited from a gradual shift in market expectations for less US policy easing later in the year, while some in the market have increased bets on a rate hike in June.