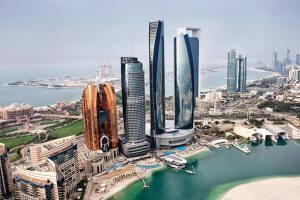 ABU DHABI / WAM
Abu Dhabi's leading entities are participating in IPEM Paris 2023, a premier private capital industry gathering, to reaffirm the UAE capital's prominence, from September 18-20 at the Westin Vendôme and Jardin des Tuileries in Paris. Abu Dhabi Department of Economic Development (Added), Abu Dhabi Global Market (ADGM), Abu Dhabi Investment Office (Adio), Abu Dhabi Residents Office (ADRO), Abu Dhabi IPO Fund (ADIPOF), Abu Dhabi Securities Exchange (ADX) and First Abu Dhabi Bank (FAB) are poised to make their mark at IPEM Paris 2023, united by a shared pursuit of excellence.
This collective ensemble embodies the vanguard of Abu Dhabi's financial landscape, converging to unveil a vision of the emirate as the unrivalled 'Capital of Capital'. Their mission is to introduce the wealth of opportunities Abu Dhabi offers and showcase its dynamic investment environment to the European Private Markets. The delegation will delve into discussions regarding how General Partners (GPs) plan to update their investment and value-creation strategies while also looking at how Limited Partners (LPs) reassess their allocations – and which segments and asset classes stand to benefit from these shifts. With the overarching theme "Destined to Outperform", IPEM Paris 2023 returns to the French capital, embarking on a comprehensive exploration of the enduring claim of the private capital sector.
Hareb Al Mheiri, Executive Director of ADRO, said, "Abu Dhabi stands as one of the top destinations for investors and long-term residents and we are steadfast in our commitment to continue attracting global key industry players in the financial sector to the Capital of Capital. This prestigious event provides a solid and credible platform to showcase Abu Dhabi's world-class ecosystem and attractive framework to international top talent, investors, and entrepreneurs in order to set-up their businesses in the emirate and consider Abu Dhabi as a preferred destination for them and their families to live and grow." Badr Al-Olama, Acting Director General of Adio said, "Abu Dhabi's unprecedented transformation over half a century has created one of the region's strongest, most diversified and sustainable economies. The emirate continues to be a destination of choice for innovative global players due to its progressive investment environment, enabling regulations, economic resilience, access to talent, liveability, cutting-edge infrastructure and connectivity."
Arvind Ramamurthy, Chief of Market Development at ADGM said, "As we join hands with our esteemed counterparts, ADGM is eager to participate in IPEM Paris 2023 and highlight the strategic advantages that Abu Dhabi offers to global investors and industry participants."
"This platform serves as a unique avenue to engage with global thought leaders and decision-makers, exploring the trajectory of private markets in an ever-evolving financial landscape. With ADGM's steadfast commitment to innovation, regulatory excellence, and fostering sustainable growth, we look forward to contributing meaningfully to discussions that shape the future and foster an environment that is truly destined to outperform."
Abu Dhabi institutions stand poised to infuse IPEM Paris 2023 with their collective expertise, visionary strategies, and collaborative ethos, thus contributing to the event's overarching goal of elucidating the future of private markets and their potential for sustained outperformance.