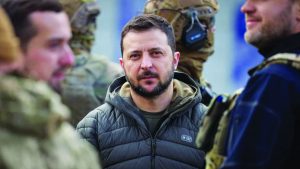 BLOOMBERG
Ukrainian President Volodymyr Zelenskiy visited frontline positions near the besieged city of Bakhmut in the eastern Donetsk region, a focus of fierce battles with the Russian army in recent months, and was briefed about the situation on the ground.
Zelenskiy earlier condemned what he called "murderous" Russian strikes on Ukraine overnight using drones, as well as fresh missile attacks and shelling. He dismissed any talk of a possible ceasefire coming from the Kremlin after President Vladimir Putin's meeting in Moscow with his Chinese counterpart, Xi Jinping.
"Every time someone tries to hear the word 'peace' in Moscow, another order is given there for such criminal strikes," Zelenskiy said in a tweet. Ukraine's General Staff said there had been a "massive" drone attack on the country, and that 16 of 21 unmanned aerial vehicles were shot down.
"I am honoured to be here today, in the east of our country, in Donbas, and to reward our heroes, to thank you, to shake hands," Zelenskiy told Ukrainian troops near Bakhmut.
He also posted a video on social media of what he said was the moment a Russian missile struck a residential building in the southern city of Zaporizhzhia on Wednesday. "Russia is shelling the city with bestial savagery," Zelenskiy said.
Meanwhile, Xi Jinping used two days of talks in Moscow to firmly align with Russia against the US. But the Chinese leader held back from offering Vladimir Putin something he's been looking for: A commitment to buy a lot more gas.
The visit by Xi, his first to Russia since Putin invaded Ukraine just over a year ago, marked a political win for both leaders. Xi saw an opportunity to push back at the US and buttress his image as a global statesman.
Emphasising that China-Russia ties "are not the kind of military-political alliance during the Cold War," one of the joint statements issued after the talks drew a more explicit boundary than a lengthy joint statement last year that hailed a "no limits" friendship between the countries when Putin visited Beijing just weeks before the invasion.
The joint statements issued after the talks contained many of the principles China has long espoused in pushing back against the US.