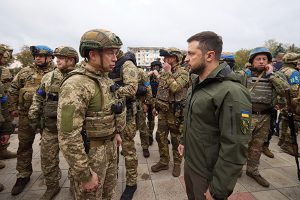 Bloomberg
President Volodymyr Zelenskiy said the current focus of the war is Donetsk, describing the heavily industrial eastern region as the "primary target" for both Ukraine and invading Russian forces.
The situation in Donetsk is "especially tense," Zelenskiy said in his nightly address. In a separate tweet, he urged the international community to step up pressure on Russia with sanctions and called for a decisive response to what he called "sham referenda" in the four Russian-occupied regions of Ukraine, which include Donetsk.
In another development, Germany suspects sabotage is behind damage to the Nord Stream pipeline system that usually transports Russian gas to the region. Kremlin spokesman Dmitry Peskov said that Russia is "extremely concerned" about the reports, which prompted a surge in gas prices even though the flows have been halted for months.
The leaks on the Nord Stream pipelines are forming an area of natural gas bubbles about 1 kilometer (1,090 yards) in diameter in the Baltic Sea, a video released by the Danish army showed. Another smaller area with gas bubbles measured about 200 meters in diameter, according to the footage, which the Danish Defense shared on its website and via its Twitter account.
Denmark's prime minister, Mette Frederiksen, echoed Peskov in saying that sabotage cannot be ruled out as the cause of damage to Nord Stream infrastructure off the island of Bornholm in the Baltic Sea.
"It's hard to imagine that these are coincidences," the prime minister said in an interview with broadcaster TV2 from Poland, where she's attending the opening ceremony of Baltic Pipe, a separate gas link between Norway and Poland.
Meanwhile, Russian forces hit Kryvyi Rih airport in the Ukraine's central Dnipropetrovsk region with a missile, rendering it inoperable, local authorities said. Russian rockets also struck the city of Zaporizhzhia. Ukraine's General Staff reported that the situation at the Zaporizhzhia nuclear power plant remains tense, with staff reluctant to work with Russians and trying to flee occupied territories. In the south, Russia attacked the Odesa region with drones, all three of which were shot down by air-defense forces, while the city of Mykolaiv was heavily shelled overnight, local authorities said. Ukrainian forces continued to make advances north of Lyman and on the eastern bank of the Oskil River, according to the latest report by the Washington-based Institute for the Study of War.
United Nations specialists recorded 5,996 civilians being killed in Ukraine since the beginning of the Russian invasion, including 382 children, the UN Human Rights Monitoring Mission in Ukraine said in a new report.
The mission reported 8,848 corroborated civilian injuries, noting that actual figures may be much higher as hostilities severely hinder information gathering and verification.
Most of civilian casualties were due to the use of explosive weapons in populated areas. The UN also recorded willful killings and numerous cases of arbitrary detention and enforced disappearances, torture and ill-treatment, as well as conflict-related sexual violence, mostly in the territories controlled by Russian armed forces or affiliated groups.
Russia wouldn't be making threats about deploying nuclear weapons if it was winning its war in Ukraine, Latvian Foreign Minister Edgars Rinkevics said in an interview with TV3.
"A cornered rat is a dangerous rat" and Latvia is preparing for all scenarios, Rinkevics said.