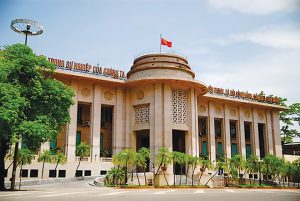 BLOOMBERG
Vietnam's central bank unexpectedly cut the rate at which it lends to banks, underscoring the need to support the economy amid a bleak global outlook and slowing domestic demand.
The State Bank of Vietnam reduced the discount rate to 3.5% from 4.5%, according to a statement on its website. The authority also reduced the overnight lending rate in the inter-bank market by 100 basis points to 6% and lowered the cap on the lending interest rates for short-term loans in some sectors to 5% from 5.5%.
The regulator, which uses a combination of rates to guide its monetary policy, kept the benchmark refinancing rate unchanged at 6%.
The decision partly reverses last year's tightening, after data showed consumer price gains slowed to 4.31% in February, the first drop in six months. The rate cuts follow Prime Minister Pham Minh Chinh's order to the central bank to take steps to lower lending interest rates to
support businesses amid an uncertain global economic outlook.
The benchmark stock index closed 2% higher, rising for the first time in four days while the local currency gained 0.1% against the dollar.
The central bank, which raised rates twice last year, said while inflation is under control, the economy faces many difficulties "especially with exports being slowed due to low world demand."
"Some economic indicators also dropped from the same period last year, such as industrial production, and FDI disbursement, slowing down credit demand from businesses," SBV said in an emailed statement where it also identified the liquidity crunch in the property and corporate bond market as a worry.
The reduction in discount rate will help bring down the cost of funds for banks, according to Nguyen Quoc Hung, general secretary of Vietnam's Bank Association. Banks can now borrow from the SBV at a lower rate, and in turn, reduce their lending interest rates to businesses, said Hung, who was formerly head of credit department at the central bank. Higher credit off-take will spur consumption and help the nation retain its status as one of the world's fastest-growing economies.